UWRF Home > University Communications Home > This Month's News Releases
University Communications
For more information, contact news@uwrf.edu.
Chancellor Van Galen Encourages Grads to 'Re-gift' at Commencement
Dec. 20, 2010--The University of Wisconsin-River Falls held fall commencement on Dec. 18 in the Robert P. Knowles Physical Education Center on campus. Some 360 students, both undergraduates and graduates from all majors received their diplomas.
After the graduates processed to their seats, the ceremony began as the River Falls Brass and graduating senior and elementary education major Jenika Boersma of Eagan, Minn., performed the national anthem.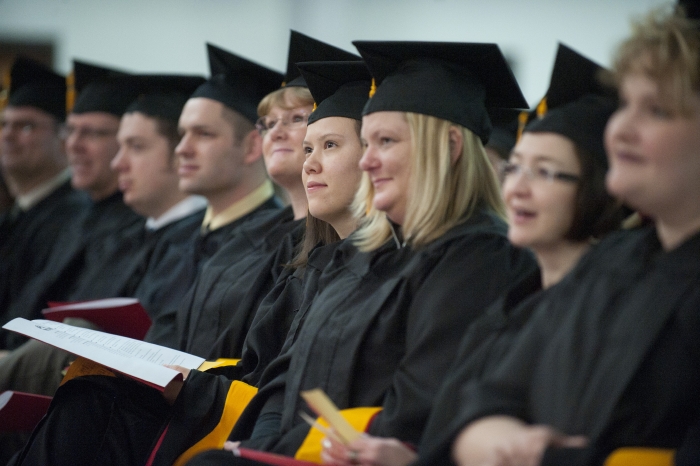 Chancellor Dean Van Galen offered his congratulations to the graduates.
"Graduates, during your time at UWRF, you have been challenged to master new knowledge and skills, to think critically about ideas that likely challenged your own world view, and to develop greater understanding of people, places and cultures outside of your past experience," said Van Galen. "You have risen to this challenge. You have indeed earned your degree, a degree of high quality, from UW-River Falls."
Van Galen reminded graduates that while each had worked hard for their degree, other people contributed to their success, and they should do the same for others in the future.
"The degree you receive today is also a gift. A gift, because it would not have been possible without the support of others: faculty and staff, family and friends, alumni who are committed to this great university and indeed the citizens of Wisconsin who funded a portion of your education," said Van Galen. "In the years ahead, I encourage you to pass this gift on, to 're-gift' if you will. Ensure that your education will enrich not only your life, but the lives of those close to you, as well as the larger community in which you live. Give generously of your time and treasure to others."
Outstanding Service Awards were presented to and Bob Casey of WESTconsin Credit Union and Bachman's, represented by Dale Bachman, CEO.
Casey is the manager of the River Falls office of WESTconsin Credit Union. He serves as treasurer of the UW-River Falls Foundation Board of Directors and as a member of the College of Business and Economics (CBE) Alumni Advisory Board. In his capacity as a member of the CBE alumni board, he helped organize and is highly involved in the college's Alumni Mentoring Network, and has been essential in creating internships for UWRF students.
Operating since 1885, Bachman's is one of the largest floral and nursery businesses in the world, and has been supporting UWRF's horticulture program for more than 30 years. The business has offered numerous opportunities to UWRF students, including field trips, internships, and a collaboration with UWRF for a massive display at the Midwest Home Show this fall.
During the ceremony, Van Galen took the opportunity to honor Todd Bachman, former CEO of Bachman's, who passed away in 2008.
"We would be remiss if we did not acknowledge the contributions of an individual who is not with us today. Todd was a good friend of UW-River Falls and served on the advisory board of the College of Agriculture, Food, and Environmental Sciences," said Van Galen. "Today's award is a recognition of his legacy as well as an expression of our gratitude for the contributions the Bachman family continues to make to our university and our students."
Professor of Physics Lowell McCann addressed the crowd as the Distinguished Teacher. McCann graduated from UWRF summa cum laude in 1991 with a major in physics and minors in math and Spanish. As an undergraduate, McCann was a member of both the Phi Kappa Phi and Sigma Pi Sigma honor societies. After receiving his degree, McCann attended Michigan State University, where he received his doctorate in experimental condensed matter physics.
McCann came back to UWRF in 1999 to teach, benefitting from the experience of his former instructors, who mentored him as he learned how to be more effective in the classroom. In 2007, McCann was named the Outstanding Faculty Mentor for the McNair Scholars program. He has co-authored ten publications on a wide variety of subjects, and is a board member of the Advanced Laboratory Physics Association.
The ceremony concluded with Van Galen conferring the degrees, and Robert Kotecki, chair of the UW-River Falls Foundation Board of Directors, welcomed students into the alumni association.

-30-
Last updated: