UWRF Home > University Communications Home > This Month's News Releases
University Communications
For more information, contact news@uwrf.edu.
UWRF Fraternity Recognized Nationally
Nov. 5, 2010--The University of Wisconsin-River Falls Alpha Psi chapter of fraternity Alpha Gamma Rho (AGR) was recently recognized at the National AGR Convention with many honors.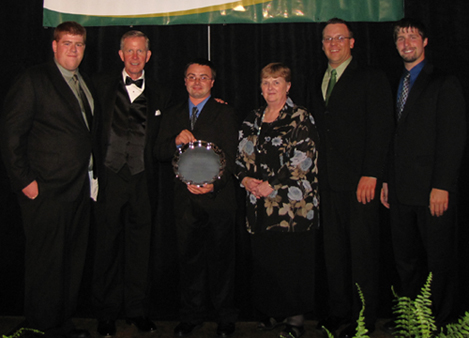 The Alpha Psi chapter received the "Sleeter Bull" award for the most improved chapter over the past two years. Several aspects of the chapter contributed to the achievement.
Alpha Psi's membership has seen a continuous growth to some 80 undergraduate members who represent a breadth of majors within the College of Agriculture, Food and Environmental Science from Wisconsin, Minnesota, Pennsylvania, and Michigan. Alpha Psi members maintain the highest GPA among UWRF's campus fraternities.
The chapter exemplifies a dedication to nurture lifelong development through professional career building seminars and responsibilities to the UWRF, City of River Falls, and St. Croix Valley.Alpha Psi maintains relationships with more than 900 alumni around the country and world.
At the national convention, Alpha Psi housemother, Monica Voiles, was awarded the Marie Coe Memorial Housemother Award in cultural and social development for her years of service. Voiles is in her fourteenth year as a housemother at Alpha Psi where she plays an integral role in the professional and spiritual development of the men and helps the chapter with their community and alumni relations.

-30-
Photo: Alpha Psi members as they receive their award. From L-R: George Diamond, junior conservation major from River Falls; Philip Josephson, Alpha Gamma Rho Executive Director; Zach Czech, senior agricultural business major from Boyd; Monica Voiles, housemother; Andrew Christenson, the chapter's noble ruler and senior agricultural business and dairy science major from Amery; and Tryston Beyrer, senior crop and soil science major from Colfax.
Last updated: