UW-RF Home > University Communications Home > This Month's News Releases
University Communications
For more information, contact news@uwrf.edu.
Coach of 21 Years Shares Final Homecoming with Falcon Fans
By Kelly Sather

Oct. 8, 2010--Students, staff, faculty, and the community came together for Homecoming Oct. 2 at the University of Wisconsin-River Falls.
The day's blustery and brisk weather did not keep more than 2,400 spectators from attending the homecoming football game at Ramer Field against long-time rival, UW-Stout.
The Falcons began with great defense early in the game, keeping the Blue Devils at only two downs throughout the first twenty minutes of the game. Halfback Taylor Edwards, a junior from Janesville, scored the Falcon's single touchdown in the third quarter. The Falcons fell short to UW-Stout with a final score of 24-7.
Many emotions were tied to the game, but none compared to those felt by Head Coach John O'Grady. After 21 years of serving as head football coach, O'Grady is retiring after this season.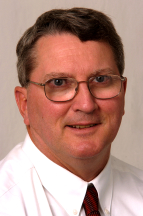 "Homecoming for me has been different than it has been for many coaches. I am an alumnus of UWRF and have always enjoyed it because I get the chance to see fellow teammates and players who have played here throughout the decades," says O'Grady. "I love these guys, all of them."
O'Grady says a UWRF loss at his final homecoming game as coach does not diminish his Falcon pride.
"We lost the game. That is not pleasant and losing should not be. However, there really are more important things in life than the scores of games," he notes.
O'Grady says he feels gratified seeing past team members succeeding post-graduation. This year, a former player who had been a freshman when O'Grady started coaching in 1989 returned to visit with him.
"I asked him how old he was and he told me 40. I was in shock when he said that. I remember him when he was a young man of 18 years of age," says O'Grady. "Being able to see him and learn about what his life is all about since he left, and seeing that he is a successful guy literally gives me goose bumps."
He adds, "Keeping an eye on the players after they graduate is awe-inspiring. I will miss that aspect of this job terribly."
The theme for this year's homecoming, "Homecoming of Heroes," inspired events throughout the week leading up to Saturday afternoon. Kicking off the festivities on Monday was a window-decorating contest in which students painted the windows of community businesses. Other Homecoming Week events included the Perfect Pair Game, bingo, a beanbag tournament, and the ever-popular tradition of the Lip Sync Contest.
"All homecoming activities were funded by Falcon Programs. Our planning committee is excited to see homecoming continue to evolve and to further grow our pride and tradition at UW-River Falls," says Karyn Wells, event coordinator.
Saturday morning's events began with the homecoming parade through downtown River Falls, held in conjunction with the Zor Shriners. Tailgating at Ramer Field followed the parade.
Though his coaching career may be near an end, O'Grady will continue attending and supporting Falcon football "til the day I die!"

-30-
Last updated: