UW-RF Home > University Communications Home > This Month's News Releases
University Communications
For more information, contact news@uwrf.edu.
Provost Presents as Part of Social Justice Series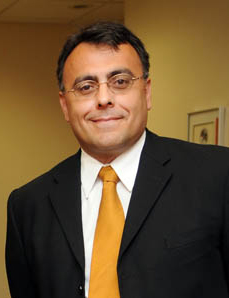 Oct. 8, 2010--Fernando Delgado will present, "Brown and Out: Latino Access to Higher Education in Wisconsin and Minnesota," on Oct. 13 from 2-3 p.m. in the Kinnickinnic River Theater of the University Center at the University of Wisconsin-River Falls.
Delgado, UWRF's provost and vice chancellor for academic affairs, will focus on the demographics of Latino populations in Wisconsin and Minnesota. He will also address the assessment of some basis and causes for the lack of success in post-secondary achievements by Latino populations.
Delgado says his presentation will also include suggestions and observations for going forward and meeting institutional goals and social obligations.
He received his doctorate in communication studies from the University of Iowa and has been the provost at UWRF since July 2009. A widely-published scholar, Delgado currently has two works in progress, "Fidel Castro and the Construction of a Revolutionary Ideology," and "Kicking Around: Soccer America and the Persistence of a Soccer Culture in the U.S."
This event is presented as part of the university's Social Justice Series and is free and open to the public. For more information, contact Ashley Olsen, sociocultural coordinator, at ashley.e.olson@uwrf.edu or at 715-425-4444.

-30-
Last updated: