UW-RF Home > University Communications Home > This Month's News Releases
University Communications
For more information, contact news@uwrf.edu.
Study to Investigate Feasibility of Wind Turbines for UWRF
By Trista Gropp
Oct. 1, 2010--When considering renewable energy in the St. Croix Valley, the question becomes, where could new possibilities lie?
The answer could be wind. The University of Wisconsin-River Falls, well-known for making strides in sustainability, is currently investigating the feasibility of wind turbines. Commercial wind turbines could potentially produce nearly 50 percent of the energy used by campus.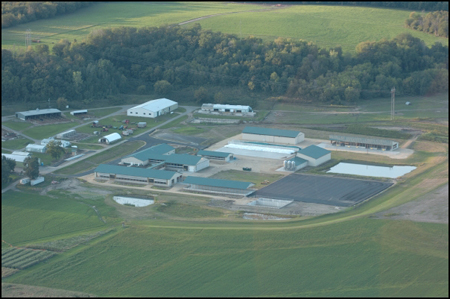 A study, funded by the Wisconsin Division of State Facilities, a Focus on Energy grant, and energy rebate dollars, has been contracted through Windations, a consulting and project management company specializing in alternative energy.
The study will take a close look at wind resource availability, site civil engineering requirements, electrical interconnection requirements, and permitting and approval requirements for a potential turbine site at the Mann Valley Laboratory Farm, north of River Falls along St. Croix County Road MM.
"We need to take a holistic perspective and examine the technical and economic feasibility of wind turbines," Mike Stifter, director of UWRF Facilities Management, says.
The study is expected to conclude in December. From there, if it is found to be a viable project, a period for public information meetings would span the next six months. A process to develop a design, seek appropriate approvals, obtain bids, and finalize funding precedes construction of the wind turbines.
"Efficiency is important first, and then we can look at the installation of renewable energy," notes Kelly Cain, director of UWRF's St. Croix Institute for Sustainable Community Development.
Besides the obvious benefits of becoming more sustainable, installing and implementing wind turbines could open doors to phenomenal educational opportunities for both students and the River Falls community.
The project is a collaborative community effort; UWRF campus leaders, River Falls Municipal Utilities/WPPI Energy, Focus on Energy, the Wisconsin Division of State Facilities, the UW System, Xcel Energy, and locally-owned site and civic consulting and excavation companies are currently working on this project.
"We are lucky to be in a progressive community," says Cain.
As a signatory campus of the American College and University Presidents' Climate Commitment, wind energy could help the campus in its initiative to become closer to carbon neutral by reducing fossil fuel energy use and greenhouse gas emissions.
Since signing the commitment, the campus has already seen a 20 percent reduction in its carbon footprint through conservation and efficiency initiatives.
For more information, contact Cain at 715-425-3479 or via email at kelly.d.cain@uwrf.edu.

-30-
Photo: An aerial shot of UWRF's Mann Valley Laboratory Farm, the proposed site for wind turbines.
Last updated: