UW-RF Home > University Communications Home > This Month's News Releases
University Communications
For more information, contact news@uwrf.edu.
Rare Corpse Flower to Bloom at UWRF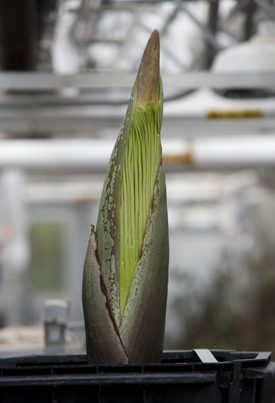 Sept. 27, 2010--If he were a human being, he'd be labeled with a personal hygiene problem.
"He" is a titan arum, more commonly known as the corpse flower, so named for its overwhelmingly odiferous trait. The smell of a corpse flower has been likened to decomposing flesh, rotten eggs, or rancid fish.
This particular corpse flower resides in the greenhouse at the University of Wisconsin-River Falls, and is getting ready to bloom for the first time. The original seedling was a gift from the University of Wisconsin-Madison.
"I received the seedling in the fall of 2001," says Dan Waletzko, greenhouse and field plot manager. "The seedling came from Mo Fayyaz at Madison. We met at an Association of Education Research Greenhouse Curators meeting and have been good friends ever since."
A titan arum from seed can take six or more years to flower. Each year it sends up a single leaf, which lasts approximately a year to 18 months. When it dies, the plant remains dormant anywhere from three months to a year. Then, if the plant is mature, it produces a flower.
UWRF's corpse flower is currently 37.5 inches tall, and shows no signs of slowing down. Just three days earlier, the plant measured 30 inches.
"It is true that it can grow inches overnight, especially at this stage," says Waletzko.
As it changes so rapidly, updates on the corpse flower will be available via the plant's Web page at http://www2.uwrf.edu/college-of-agriculture/CorpseFlower.htm. Those who want to take a whiff of the plant for themselves can find information on public viewing times on the page.
For further information, contact Waletzko at 715-425-4888 or via email at daniel.k.waletzko@uwrf.edu.
-30-
Last updated: