UW-RF Home > University Communications Home > This Month's News Releases
University Communications
For more information, contact news@uwrf.edu.
Martin to Receive State Advising Award
By Trista Gropp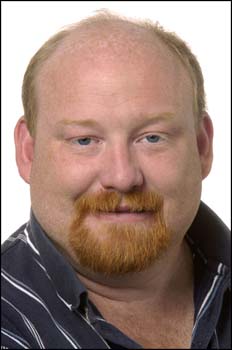 Sept. 24, 2010--The University of Wisconsin-River Falls' College of Education and Professional Studies (CEPS) Senior Advisor/Administrative Specialist, Mike Martin, has been recognized at the state level for his talents in advising. Martin will receive the prestigious Wisconsin Academic Advising Association Advising Excellence Award at their state conference in late September.
Nominations were received from public and private institutions of higher education including technical and two-year colleges; only two awards are presented each year. Martin is also the recent recipient of the UW-River Falls Academic Advisor of the Year award.
"I am flattered to receive this award, however watching my students grow and move forward both personally and professionally year after year is far more rewarding," says Martin.
Martin has been a UWRF staff member for 13 years and advises approximately 350 pre-elementary education students.
"Using the developmental approach to advising, he works in a caring, supportive, yet firm, manner with his advisees to help them make difficult decisions," CEPS Interim Dean Faye Perkins says of Martin.
Among his other professional duties, Martin also serves as the UWRF Academic Staff Council representative to the University of Wisconsin System, serves as the UWRF certification officer, manages reports required by the state, and lends his expertise to other programs across campus.
Chancellor Dean Van Galen notes, "Mike Martin has been an exemplary advisor for many years, and this honor is well deserved. He has guided, mentored, and influenced the lives of many UW-River Falls students."
-30-
Last updated: