UW-RF Home > University Communications Home > This Month's News Releases
University Communications
For more information, contact news@uwrf.edu.
College of Business and Economics Names Outstanding Faculty and Staff
by Kelly Sather
Sept. 17, 2010--The College of Business and Economics (CBE) at the University of Wisconsin-River Falls has recognized three outstanding faculty and staff members with awards for teaching, advising, and research.
This year the college presented the Outstanding Teaching Award to Claire Kilian, the Outstanding Advisor Award to Ellen Schultz, and the Outstanding Research Award to Stacey Vollmers.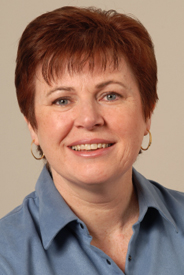 Claire Kilian joined UWRF in 2000 and holds a Ph.D. from Ohio State University. Kilian is currently the director of the university's MBA program, assisting approximately 120 graduate students, and is also a professor of management.
Active on campus and in the community, Kilian works cooperatively with many businesses, including the Mayo Clinic in Rochester, Minn.
"Dr. Kilian is a tremendous resource of the college and of UWRF. Not only is she a great teacher, but she also provides very valuable leadership in the college as director of the MBA," says Glenn Potts, dean of CBE. "Her students always have wonderful things to say about her."
One student summed up Killian's excellent teaching: "I have been out of college for four years and her lessons still ring true in the 'real world.'"
Kilian says, "I enjoy knowing that I've had a positive impact on students and their future; that is very, very gratifying. It's a nice reminder that what we all do here is really worthwhile and important."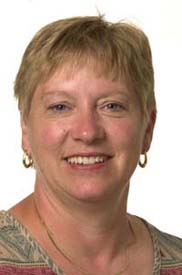 Ellen Schultz has been an academic adviser in CBE for 15 years. This is her second time receiving the award of Outstanding Advisor.
Schultz advises 200-300 students each year, most of them freshmen. Her advising goes beyond just recommending what classes students should take. She also talks with students about the habits and attitudes of successful students and helps them transit to other advisors.
"Ms. Schultz not only helps them with their academic schedule," says Potts. "She helps them when it is needed and holds their feet to the fire when that is needed, too. The students she advises receive the best possible chance at success. Ellen is a wonderful example of what makes UWRF such a great place."
One student comments, "She helped set my four-year plan and I used it to graduate."
Schultz is also active in the recruitment of many prospective students and athletes interested in CBE, and serves as a member of the Academic Staff Council.
"Since I received this award six years ago, I was truly surprised to receive it this year. One of my goals is to help students cultivate the academic and professional skills they need to be successful citizens and lifelong learners," says Schultz. "The greatest rewards are having alumni say thanks or witnessing the pride of a student who experienced success in an area where they lacked confidence. I believe that working with students, faculty, and staff in CBE and across campus is a privilege that should not be taken for granted."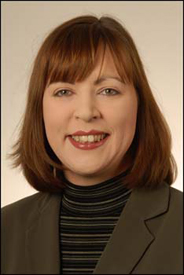 Stacy Vollmers is this year's recipient of the Outstanding Research Award. Vollmers earned her Ph.D. from The Florida State University and is an assistant marketing professor at UWRF.
"Vollmers works hard as a teacher and takes her responsibility to her profession seriously. As an AACSB-accredited business program, faculty in CBE are expected to make important contributions to the body of knowledge in their discipline," says Potts.
Every five years, CBE faculty members are expected to have at least two publications; this past year alone, Vollmers published four.
"This is very difficult especially with a heavy teaching load, advising responsibility, and service on several committees," says Potts. "Dr. Vollmers is an extremely valuable member of the CBE family."
Vollmers' articles have appeared in the Journal of Critical Incidents, Journal of Asia Pacific Business, Journal of Hospital Marketing and Public Relations, and the International Journal of Business Research.
"There are 28 faculty members in the College of Business and Economics; there is no room for non-contributors and these three women understand that and want to give students a good academic experience," says Potts.
-30-
Last updated: