UW-RF Home > University Communications Home > This Month's News Releases
University Communications
For more information, contact news@uwrf.edu.
Falcon Frontier Days Rodeo Kicks Off September 16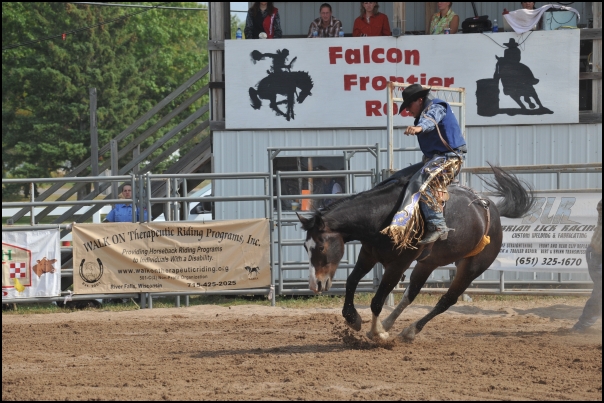 Sept. 9, 2010--The rodeo is coming back to town for the 46th Annual Falcon Frontier Days Rodeo Sept. 16-19. The UW-River Falls Rodeo Club has added Thursday night to the rodeo schedule this year in addition to the Friday-Sunday runs.
Competition times are 7 p.m. on Thursday and Friday, 1:30 p.m. and 7 p.m. on Saturday, and 1 p.m. on Sunday. Rodeo highlights include various children's events at each show and the coronation of the Rodeo Queen, Rose Cherry, a senior animal science major from Crivitz, on Sept. 16.
The UWRF Rodeo Club offers ticket package deals for families and students. Thursday is dubbed "College Night" and UWRF students with ID may purchase tickets for $6 at the gate. The "family package" is available for a minimum of one adult and one child to receive $5 off admission. A "second round deal" allows attendees to bring their ticket stub in to a second performance and get $2 off.
Gate prices are: $12 for ages 13 and up, $7 for ages 5-12, free admission for children under 4, and $7 for UWRF students with ID. Advance sale tickets are available the week of the rodeo, Sept. 13 and 14, on campus in the Agriculture Science building from 11 a.m.-2 p.m. and also in the University Center Sept. 13-15 from 11 a.m.-2 p.m.
The rodeo grounds are located at Campus Laboratory Farm No. 1 on Wasson Lane at the junction of Cemetery Road, just west of Highway 65 in River Falls.
For more information, contact Nathan O'Connor, rodeo club adviser, at 715-425-3704.
-30-
Last updated: