UW-RF Home > University Communications Home > This Month's News Releases
University Communications
For more information, contact news@uwrf.edu.
UWRF Remembers Secretary Rod Nilsestuen
July 23, 2010--Rod Nilsestuen, secretary of the Wisconsin state Department of Agriculture, Trade and Consumer Protection (DATCP) and a 1970 graduate of the University of Wisconsin-River Falls drowned while swimming in Lake Superior Wednesday.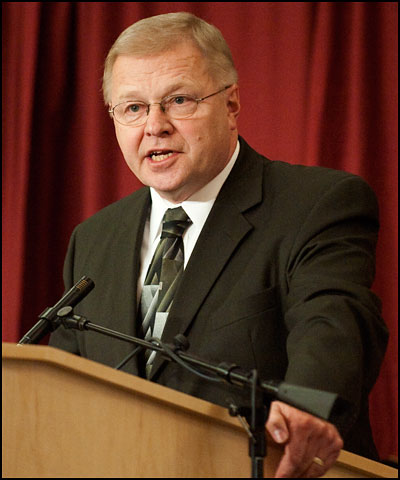 "Secretary Nilsestuen was not only a great leader, but was also a person of uncommon warmth and high character," says UWRF Chancellor Dean Van Galen. "When visiting with Rod, it was clear that he cared deeply about education and UW-River Falls."
Nilsestuen, age 62, had been a frequent visitor to the UWRF campus since being appointed secretary of the DATCP by Governor Jim Doyle. Nilsestuen used each of these visits as an opportunity to discuss ways in which the state, UWRF and the College of Agriculture, Food and Environmental Sciences (CAFES) could partner to benefit the people and industries of Wisconsin.
"Rod Nilsestuen was not only a friend but a visionary and problem solver," states Dale Gallenberg, dean of CAFES. "The agriculture industry and education system in Wisconsin benefited greatly during his time as secretary. The College of Agriculture, Food and Environmental Sciences will certainly miss him and extends our deepest sympathy to his family."
Sustainable agriculture and community development was an area of focus for many of Nilsestuen's on-campus discussions. These discussions included representation from the DATCP, the Council on Rural Initiatives, Philadelphia Community Farm and UW-River Falls' St. Croix Institute for Sustainable Community Development (SCISCD).
"Besides being of the highest integrity in all that he did in personal, professional, and civic life, he was one of the most progressive and savvy of sustainable agriculture leaders in the country," says Kelly Cain, director of the SCISCD.
During his time as a student at UWRF, Nilsestuen served in several student leadership roles including as a student senator. Upon completing his bachelor's degree in political science and sociology, Nilsestuen went on to earn a law degree from the University of Wisconsin-Madison.
Nilsestuen was presented with UWRF's Wisconsin Distinguished Agriculturist Award in 1995. The award is given to an individual in the agricultural or natural resources fields who has provided outstanding leadership, service and other contributions to the agricultural community.
"We will remember Rod as one of our most accomplished alumni, and as a special person whose life will have a lasting positive impact on our university and the State of Wisconsin," Van Galen says.
-30-
Last updated: