UW-RF Home > University Communications Home > This Month's News Releases
University Communications
For more information, contact news@uwrf.edu.
New Chief Diversity Officer Selected
May 26, 2010—Andriel Dees has been named as the new chief diversity officer at the University of Wisconsin-River Falls. Currently associate dean for multicultural affairs at the William Mitchell College of Law in St. Paul, Minn., she will officially join UWRF on July 7.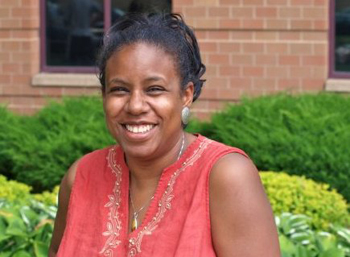 As chief diversity officer, Dees will serve as a member of the Chancellor's Cabinet and provide leadership in advancing the university's commitment to fostering a culture of inclusiveness. The chief diversity officer collaborates with constituencies across campus and in the community to increase access, equity, diversity and inclusion, and provides leadership in the area of equal employment opportunity, affirmative action and compliance.
"Ms. Dees brings a wealth of experience and knowledge to the position of chief diversity officer," says Chancellor Dean Van Galen. "She is the ideal professional to build upon the momentum that exists on campus towards fulfilling our strategic planning initiatives in the areas of diversity and inclusiveness."
In her current position at William Mitchell, Dees serves as the college's senior diversity officer and works collaboratively with campus constituencies to develop and implement a strategic plan for multiculturalism. For the past six years, Dees has served as an adjunct professor at William Mitchell teaching the course Race and the Law and Appellate Advocacy.
Prior to joining William Mitchell, Dees served as an operations managing attorney for the Office of the Monitor in St. Paul and as an employee relations consultant for U.S. Bancorp in Minneapolis. Dees earned her juris doctorate from William Mitchell and a bachelor's degree in English from Hampton University. She is an accomplished presenter, co-chair of the civic education committee of the Minnesota Bar Association and is licensed to practice law in Minnesota and the Federal Circuit Court of Appeals, D.C. Circuit.
-30-
Last updated: