UW-RF Home > University Communications Home > This Month's News Releases
University Communications
For more information, contact news@uwrf.edu.
Outstanding Alumni Honored at Spring Commencement
May 17, 2010—Three alumni of the University of Wisconsin-River Falls were recognized for exceptional achievements at the university's spring commencement on May 15.
Graduates were offered congratulations from members of the faculty, alumnae, and students. Chancellor Dean Van Galen asked the nearly 700 graduating students to consider the meaning behind their degree.
"Today, graduates, more significant than the degree you will receive, is the education that you possess," advised Van Galen. "In the end, it is this quality education, including your ability to think critically, to communicate effectively, to understand and work with diverse groups of people, and to continue this quest for knowledge over the span of your life, that will enable you to adapt and thrive."
Van Galen then introduced the 2010 award recipients, each an example of the values he recommended the graduates revere.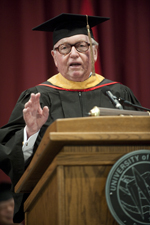 Arlin Albrecht, a 1958 graduate of UWRF, received the 2010 Distinguished Alumnus award. After earning his bachelor's degree in economics with minors in journalism and agriculture, Albrecht launched an award-winning distinguished career in journalism that led to the ownership of 21 community newspapers in Wisconsin and Minnesota.
Albrecht began his career at the River Falls Journal, a newspaper he would later own, before moving on to the St. Paul Pioneer Press. He joined the Red Wing Publishing Co. in 1962, and after becoming a partner in 1967, would go on to become chairman and CEO. His newspapers won several "Best in Nation" awards and Albrecht was awarded the Herman Roe Editorial Writing Award by the Minnesota Newspaper Association (MNA) in 1990 and the Al McIntosh Distinguished Service to Journalism Award by MNA in 1997.
Albrecht, and his wife, Marilyn, a 1956 UWRF alumna, are the parents of two grown children, Rebecca and Elizabeth.
"In nominating Arlin as the Distinguished Alumnus, Dr. Wayne Wolfe, the founder of the UW-River Falls Journalism Department, cited Arlin's outstanding success in the field of journalism," noted Provost and Vice Chancellor for Academic Affairs Fernando Delgado. "Success is something of an understatement."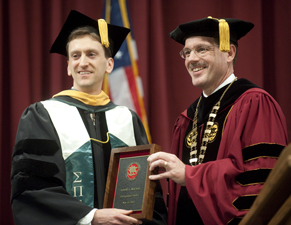 Professor of Physics Lowell McCann, Ph.D., was recognized as the 2010 Distinguished Teacher. An Oshkosh, Wis. native, Lowell McCann visited UW-River Falls as a senior in high school and was struck by the vibrant, collegial atmosphere among the faculty and students at the university and within the physics department.
He graduated from UW-River Falls summa cum laude with a major in physics and minors in math and Spanish. As an undergraduate, McCann was a member of both the Phi Kappa Phi and Sigma Pi Sigma honor societies. After receiving his degree, McCann went directly to Michigan State University, where he received his doctorate in experimental condensed matter physics.
In 1999, McCann accepted a teaching position at UWRF, and has taught more than 20 different courses, both at the undergraduate and graduate level. He predominantly teaches upper-level physics courses such as Quantum Mechanics, Electricity and Magnetism, Advanced Laboratory, and Optics. He also supervises a large number of student research projects.
In 2001, McCann and a colleague were awarded a National Science Foundation grant to modernize and expand the UWRF optics curriculum. In 2007, McCann was named the Outstanding Faculty Mentor for the McNair Scholars program.
"The students and recent graduates that nominated Dr. McCann described him as one of the most challenging, yet one of the very best teachers they have ever had," said Van Galen. "Recently, I was visiting with one of our current physics majors who said of Dr. McCann, 'That man made me think harder than anyone else in my life.'"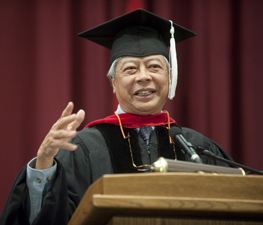 International explorer How Man Wong was honored with the 2010 honorary doctorate degree. Wong began his extraordinary career in 1975 after graduating from UWRF with a double major in journalism and art.
In 1982, he led the first of six major exploration and photographic expeditions for the National Geographic Society. In 1985, Wong led an expedition that culminated in the extraordinary discovery of a new source of the Yangtze River.
He founded the China Exploration & Research Society, a group that continues his passion for exploring remote regions of China while conducting research and implementing conservation projects. Wong lectures internationally and is adviser to leaders around the world.
Recently, TIME Magazine honored Wong as one of 25 'Heroes of Asia,' calling him "China's most accomplished living explorer." He was recognized in 2002 as UWRF's Distinguished Alumnus.
Van Galen quoted a member of the faculty regarding Wong, saying, "Dr. Tracy O'Connell, who is both a former classmate of How Man's and spent time working with him in China in 2005, stated 'He moves seamlessly through the worlds that overlap around his sphere, he is by turns explorer, artist, humanitarian, anthropologist, and environmentalist. He has the ability to excite others to see his dreams, and to make them real.'"

Photos, top to bottom: Arlin Albrecht, 2010 Distinguished Alumnus, expresses his thanks for receiving the award. Chancellor Dean Van Galen presents Lowell McCann with the 2010 Distinguished Teacher award. How Man Wong, honorary doctorate degree recipient, addresses those gathered for spring commencement.
-30-
Last updated: