UW-RF Home > University Communications Home > This Month's News Releases
University Communications
For more information, contact news@uwrf.edu.
CAFES Announces Outstanding Service Award Recipients

By Trista Gropp
April 30, 2010--The UW-River Falls College of Agriculture, Food and Environmental Sciences (CAFES) recently recognized Ron Zirbel and Gold'n Plump in Arcadia with Outstanding Service Awards at the college's spring banquet April 22. The award recognizes individuals or groups that have made significant contributions to the college in time, monetary donations and/or other support of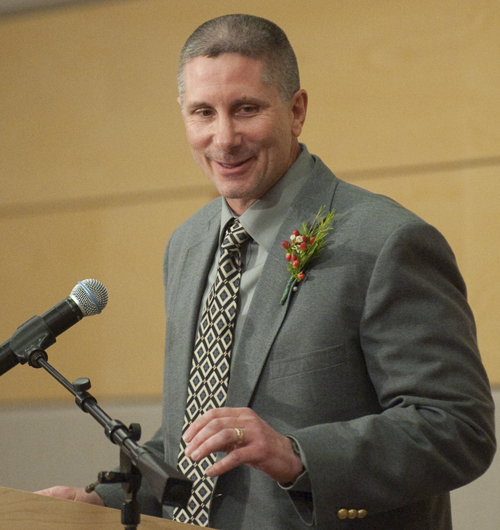 CAFES programs, student, faculty and staff.
Outstanding Service Award recipient, Gold'n Plump in Arcadia was acknowledged as an excellent supporter of multiple areas within CAFES. The company supports the UWRF Poultry Club by providing live broilers and whole carcasses for the judging team to practice with. They also supply live birds for a meat science class to learn about the poultry industry, bird processing and yield information. Gold n' Plump also welcomes students to tour their facilities.
"The actual dollar amount that has been donated is difficult to determine. The philosophy of the company is they would prefer to donate product and services than actual dollars," wrote animal and food science professor, Bonnie Walters, in nomination.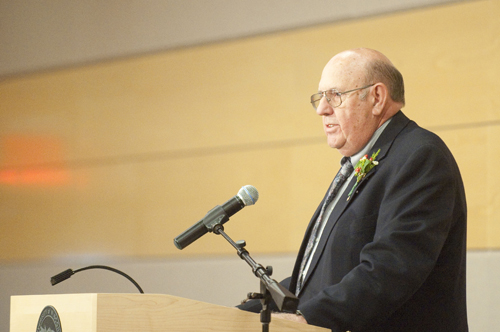 A number of UWRF graduates have found career opportunities at Gold'n Plump, and the director of Arcadia operations, Bill Petz, is a graduate of UWRF's agricultural education program. Gold'n Plump has hired interns in both live production and the processing plant.
An Outstanding Service Award was also presented to Ron Zirbel, a leader in the food and dairy industry. Zirbel graduated from UWRF in 1966 and has maintained close ties to the university since that time. Prior to retirement Zirbel was the general manager and executive vice president at Maple Island, Inc., a contract manufacturer and international marketer of dehydrated dairy and food products, pharmaceutical and nutraceutical products. Zirbel encouraged the company to provide internship and job opportunities for UWRF students.
Zirbel served on the Board of Directors of the UWRF Agricultural Alumni Association from 1996-2002. He is also recognized for his loyal financial support in projects such as the Dairy Learning Center and college scholarships.
Former Dean of CAFES, Steven Ridley, describes Zirbel as "one of those rare good-hearted individuals who finds it hard to say 'no'."
Zirbel is currently chair of the CAFES History Group. He has dedicated time to digging through archive files, reading old issues of the Fence Post, Student Voice, and other articles and photos. The group is working to compose a comprehensive update on the history of the college in anticipation of its 100-year anniversary in 2012.
Zirbel resides in River Falls and is active in the St. Croix Valley Master Gardeners program and the United Methodist Church of River Falls.
-30-
Last updated: