UW-RF Home > University Communications Home > This Month's News Releases
University Communications
For more information, contact news@uwrf.edu.
Jermal to Receive Outstanding Educator Award
APRIL 6, 2010--UWRF Professor of Art Lynn Jermal, of Hudson, will receive the 2010 Gordon M.A. Mork Outstanding Educator Award from the University of Minnesota on April 9 at the McNamara Alumni Center in Minneapolis.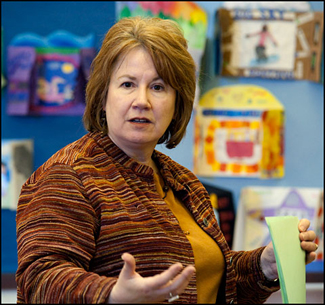 The award recognizes a University of Minnesota alumnus of the College of Education and Human Development who has demonstrated excellence in the field of school-based education. The criteria used to determine the award include: contributions in the field of education, willingness to share his or her proficiency with fellow educators, direction given to other persons by his or her example, and leadership in local, state, or national education organization.

Jermal earned a Ph.D. in Curriculum and Instruction in the Arts in 1995 from the University of Minnesota and has worked at UWRF since 1985. At UWRF, she has taught 16 different courses, numerous workshops, including College for Kids and Teen University and has been a supervisor to countless student teachers majoring in art education. For more information, please contact the UWRF art department at 715-425-3266.
-30-
Last updated: Thursday, 22-Apr-2010 16:10:03 Central Daylight Time