UW-RF Home > University Communications Home > This Month's News Releases
University Communications
For more information, contact news@uwrf.edu.
Colt Sale Set For May 1
April 5, 2010--Whether you're looking for your next futurity horse or a well-bred trail companion, UW-River Falls' 34th An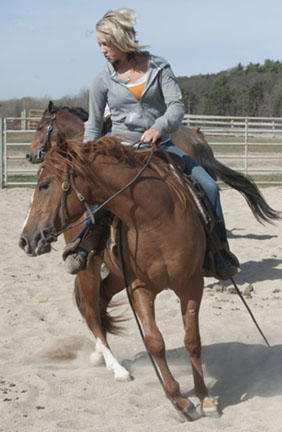 nual Colt Sale set for May 1 is worth attending. The UWRF Colts in Training Program will be presenting 50 two-year-old horses for sale. In addition, eight UWRF lesson horses and two brood mares will be auctioned off.
This year's auction is set for 2 p.m. on Saturday, May 1, at the UWRF Campus Laboratory Farm at the corner of Cemetery Road and Wasson Lane. Visit http://www.uwrf.edu/map/ for directions. The preview starts at 11 a.m., with a lunch social at 12:30 p.m.
The Colts in Training Program which is part of a three-credit class "Principles of Training Horses," allows students to learn, practice, and refine training techniques; and the sale gives the students the opportunity to present what they have been working on throughout the semester. Some 45 students are taking part in the class this semester.
"As a student pursuing a degree in equine science, I appreciate the unique opportunity to apply the skills I have gained," says student Krista Rolefson who is in the class. "Rather than receiving a test score, my peers and I can physically see the results of our education because our horses reflect our efforts."
Each student in the class works with a 2-year quarter horse that is unbroken/untrained. Some of the 50 horses being trained this semester are campus bred and born while others are consigned from their owners.
"The students work diligently all semester to prepare their colts for sale day," says Nathan O'Connor, class instructor. "Their hard work and dedication certainly shows on the day of the auction."
Scope out the UWRF colts by visiting UWRF's Colt Sale Web page at http://www.uwrf.edu/coltsale/.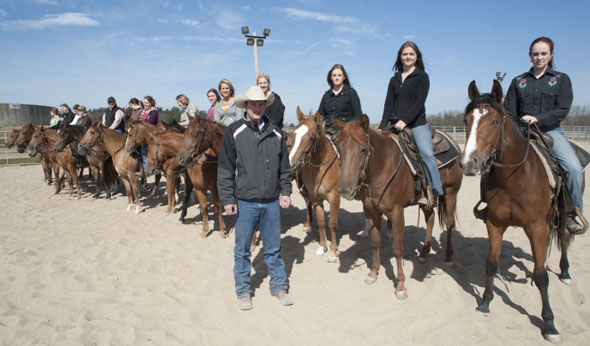 Photo: Top photo features student Brittany Cordes working with a colt in class. Bottom photo features entire class and professor Nathan O'Connor training colts for the May auction. For more photos, visit http://www.uwrf.edu/photo_archive/02010/100330colttrainingclass/index.html
-30-
Last updated: Thursday, 22-Apr-2010 16:10:03 Central Daylight Time