UW-RF Home > University Communications Home > This Month's News Releases
University Communications
For more information, contact news@uwrf.edu.
Case IH Equipment Arriving at Lab Farm
March 1, 2010-- Just in time for spring and getting into the fields, Case IH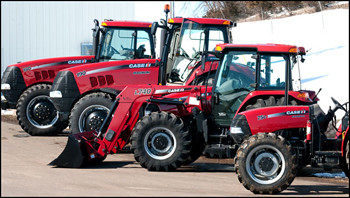 equipment is starting to arrive at the Mann Valley Lab Farm. To the right, the Magnum 180 will likely be used with the new 12-row planter and the Magnum 190 for hauling manure and discing. A small Case IH Farmall 75C has been on the farm for several weeks already and is being used to turn the bedding pack in the dairy barn. A Farmall 105U utility tractor just arrived and will be used for the total mixed ration (TMR) system for feeding the dairy herd. Two larger tractors are still to come, along with the planter, combine, tillage and forage equipment. In December 2009, Case IH and UWRF announced a long-term partnership providing the University with access to the latest agricultural equipment and expertise from Case IH. For more information on the partnership, visit http://www.uwrf.edu/communications/2009/0912/1204091.htm.

-30-
Last updated: Thursday, 22-Apr-2010 16:10:00 Central Daylight Time