UW-RF Home > University Communications Home > This Month's News Releases
University Communications
For more information, contact news@uwrf.edu.
UWRF Theatre Presents 'Our Country's Good'
Feb. 18, 2010 --The University of Wisconsin-River Falls University Theatre will present "Our Country's Good" at 7:30 p.m. Feb. 25-27 and March 4-6 in the Davis Theatre of the Kleinpell Fine Arts building.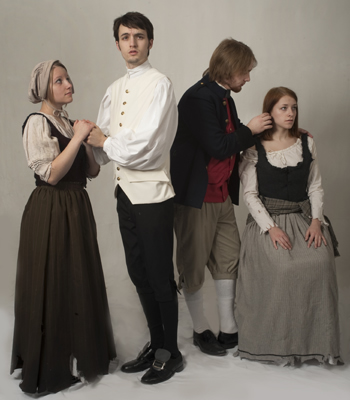 The play, written by Timberlake Wertenbaker, is the story of convicts and Royal Marines sent to Australia in the late 1780's as part of the first penal colony there. The story follows Second Lieutenant Ralph Clark as he strives to put on a play involving male and female convicts.
"I would describe my character as being a very complicated character. Ralph is very timid and he starts the play being this very meek and awkward person who doesn't know how to fight for what he believes in," says senior Marc Berg, who plays Clark. "However, the audience sees him grow during the play, along with the convicts, as a stronger person. He's a very contradictory character."
Professor and director Meg Swanson comments, "'Our Country's Good' is about many things. For me, it is ultimately about the humanity capacity to transform ourselves. A convict can represent a lady; an officer can also be a convict. In the effort to escape imprisonment, we all have the capacity to construct our own best selves."
Tickets are $8/adults and $5/students and seniors. Contact the University Box Office for ticket information at 715-425-3114. The box office is open weekdays from 10 a.m. to 3 p.m. and an hour prior to performances. Please note that the play contains strong language and adult content.
Photo (L to R): Beth Van Kampen as Mary Brenham, Marc Berg as Second Lieutenant Clark, Daniel Vopava as Harry Brewer, and Kelsey Lynnae Anderson as Duckling Smith.
The cast includes:

Mary Brenham: Beth Van Kampen, a senior psychology major from St. Paul, Minn.
Liz Morden: Rachel Hafele, a senior theatre arts major from Forest Lake, Minn.
Dabby Bryant/ Second Lieutenant William Faddy: Maggie Myre, a senior theatre arts/professional studies major from Marine on St. Croix, Minn.
Duckling Smith/Captain David Collins: Kelsey Anderson, a senior theatre arts major from Esko, Minn.
Meg Long/Captain Jemmy Campbell: Karen Biedermann, a junior theatre arts major from White Bear Lake, Minn.
Captain Arthur Phillip/John Wisehammer: Eric Douglas, a senior communications major from Rosemount, Minn.
Second Lieutenant Ralph Clark: Marc Berg, a senior theatre arts major from Rosemount, Minn.
Aboriginal Australian/Black Caesar: Matt Mobley, a junior theatre arts major from Woodbury, Minn.
Captain Watkin Tench/John Arscott: Taylor Evans, a sophomore broad field studies major from Hanover, Minn.
Lieutenant George Johnston/Harry Brewer: Daniel Vopava, a sophomore English major from New Brighton, Minn.
Reverend Johnson/ Robert Sideway: Justin DeLong, a senior English major from River Falls.
Major Robbie Ross: Patrick Grafing, a freshman theatre arts major from Minneapolis.
Lieutenant Will Dawes/Ketch Freeman: A.J. Swanson, a freshman theatre arts major from Lake Elmo, Minn.
-30-
Last updated: Thursday, 22-Apr-2010 16:09:59 Central Daylight Time