UW-RF Home > University Communications Home > This Month's News Releases
University Communications
For more information contact news@uwrf.edu.
CASE IH, Value Implement, Partner with UWRF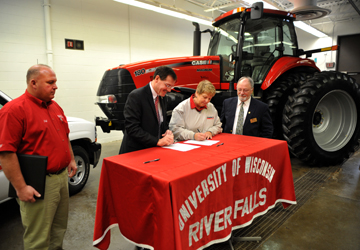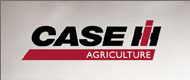 .For More Information, contact CASE IH: Julie Rudnick, 262/636-5268 julie.rudnick@cnh.com or Travis Maier 262/650-7260 tmaier@morganmyers.com
RACINE, WIS. & RIVER FALLS, WIS. | DEC. 2, 2009 | Case IH Agriculture, Value Implement and the University of Wisconsin-River Falls (UWRF) today announced a long-term partnership to provide the College of Agriculture, Food and Environmental Sciences (CAFES) with access to the latest agricultural equipment and precision farming technologies available, as well as the expertise of Case IH and the Value Implement staff.
"We are excited to partner with the University of Wisconsin-River Falls," says Jeff Schmaling, senior director of accounts management for Case IH. "UWRF has two laboratory and teaching farms close to campus, offers the only ag engineering technology major in the state and is a leading academic option for studying sustainable agriculture. We see many opportunities to join forces on research and community outreach initiatives."
Opportunity to collaborate on economical, environmentally friendly solutions
Dean Olson, chair of the UWRF agricultural engineering technology department, notes that the campus has several sustainability initiatives underway where the new Case IH equipment will play a key role. In fact, students in Olson's programs are producing biodiesel from soybeans and the waste vegetable oil generated by campus foodservice, and using it to power campus vehicles and farm equipment.
According to Olson, a longer term goal is to complete the cycle – take the waste vegetable oil, turn it into biodiesel, power the tractors that plant the crops, harvest the seed, press out the oil, use it for cooking and then start the cycle over again. "We would like to investigate the positive effects of using biodiesel to operate Case IH machinery – monitor the wear on the engine and the quality of the emissions," he says.
Olson adds that students will get to see first-hand the productivity-enhancing benefits of Case IH equipment in real-world applications. "We will be able to show students how they can raise a crop as efficiently as possible with machinery that minimizes fuel usage, requires fewer passes and utilizes precision agriculture technology to maximize production."
The laboratory portion of students' coursework is completed at the University's two farm operations. The 137-acre Campus Farm features a pavilion with space for lectures and houses the largest public equine program east of the Mississippi – which includes horse barns and a rodeo arena. The rest of the farm is devoted to other agronomy, horticulture and forestry projects.
The 477-acre Mann Valley Farm is the site of a new state-of-the-art Dairy Learning Center and an environmentally friendly composted bedding housing system. According to Bill Connolly, farm director, the animals are housed in an open area with a woodchip bedding system. The manure combined with the woodchips, microorganisms, moisture and warm temperatures begins the decomposition process.
"While the cows are being milked twice a day, we till the bedding layer to further facilitate the composting process. Then we clean the area by scraping off the top layer of material, putting down fresh bedding and bringing the compost material out to a compost pad where we turn it periodically," says Connolly.
Once the composting process is complete, it is applied to crops and sold to local homeowners, landscapers and nurseries for $30/yard. Last year alone, the sales totaled upwards of $10,000. "We use the compost for more than just a sales tool; it's also an education tool. The rest of the farm is open to the public and our compost customers can take a look around and see what else we have going on. They ultimately leave with a better understanding of agriculture."
Only 30 minutes from the Twin Cities metro area, the farms are ideally located to provide a connection to agriculture for many who are unfamiliar with current production practices. "More than 80 percent of Americans are two generations removed from living on a farm or ranch – so it's great that they can visit UWRF and gain a better understanding of how agriculture helps feed and shelter the world," says Schmaling.
Mann Valley Farm is also home to crop, beef, sheep and swine enterprises, and the facilities are designed to minimize wastewater. "For example, the water to cool the milk in the dairy center is reused for the livestock, and the Case IH equipment wash water will be reused to clean the floors and for irrigation," says Connolly.
Another possible area for research collaboration with Case IH is in the area of biomass harvesting. The Farm's cropland is used to produce the majority of feed required for their livestock. Connolly says there is potential to use Case IH equipment for harvesting corn cobs for feed and bedding – replacing the use of woodchips.
Providing students with practical, hands-on experience
A combination of new Case IH tractors, skid steers, tillage implements, a planter and a combine, delivered in early 2010 and each year thereafter, will be used for the day-to-day operations of the farms where approximately 50 students work and learn to manage an enterprise.
"UWRF is extremely pleased to be able to enter into this educational partnership with Case IH and its local dealer," says UWRF chancellor, Dean Van Galen. "Access to cutting edge technology is a critical component in many of the programs on our campus. Hands-on interaction with that technology increases the depth and quality of the learning experiences for students. The generosity of Case IH and Value Implement will make it much easier for us to provide for that access and interaction."
Jeff Rohrscheib, Case IH dealer and manager of Value Implement's Osseo, Wis., store, is happy to help make that happen. "As a graduate of UWRF's agriculture engineering technology and animal science programs, I know the value of practical, hands-on experience. By getting to use the latest in production agriculture equipment and technology, students will be better prepared for their future careers," he says.
As part of the agreement, Case IH and Value Implement will be available to support classroom instruction and community activities such as University Field Days with hands-on field demonstrations. Students also will be invited to participate in the annual Case IH Student Plant Tour offered at one of its U.S. manufacturing locations: Racine, Wis.; Benson, Minn.; Fargo, N.D.; Goodfield, Ill.; or Grand Island, Neb.
In turn, Case IH and Value Implement will have the opportunity to bring potential customers and employees to the UWRF laboratory farms to see Case IH equipment in action.
The partnership is fitting. The Value Implement locations in Arcadia, Menomonie and Osseo serve West Central Wisconsin; Case IH is headquartered in Racine, Wis.; and graduates of the UWRF frequently accept positions with both Case IH and Value Implement.
About Case IH
Case IH is a global leader in agricultural equipment, committed to collaborating with its customers to develop the most powerful, productive, reliable equipment - for those who demand more. With headquarters in the United States, Case IH has a network of dealers and distributors that operates in over 160 countries. Case IH provides agricultural equipment systems, flexible financial service offerings and parts and service support for professional farmers and commercial operators through a dedicated network of professional dealers and distributors. Productivity enhancing products include tractors; combines and harvesters; hay and forage equipment; tillage tools; planting and seeding systems; sprayers and applicators; utility vehicles and site-specific farming tools. Case IH is a brand of CNH (NYSE: CNH), a majority-owned subsidiary of Fiat Group (FIA: MI). For more information, call 1-877-4CASEIH or visit us on the World Wide Web at http://www.caseih.com/na.
About the University of Wisconsin-River Falls
UW-River Falls, ranked by U.S. News and World Report as one of America's Best Colleges (Midwestern University, Master's category) and by the Princeton Review as "A Best in the Midwest" university, has more than 6,000 undergraduate students and nearly 500 graduate students. Its four colleges include Arts and Sciences, Business and Economics, Education and Professional Studies, and Agriculture, Food and Environmental Sciences (CAFES). CAFES enrolls approximately 1,300 students in 15 program areas across 5 departments and has received national recognition for its academic programs and intercollegiate competitive teams.
Photo caption: The College of Agriculture, Food and Environmental Sciences at the University of Wisconsin-River Falls will have access to the newest agricultural equipment and precision farming technologies on the market as the result of a new partnership with Value Implement and Case IH. From left to right: Chancellor Dean Van Galen (center left) and Patricia Lardie, manager of government sales for Case IH North America (center right), signed an agreement Dec 2 that partners CAFES with Case IH. Also at the signing were Jeff Rohrscheib, manager of Value Implement (far left), and Dale Gallenberg, dean of CAFES (far right). DATELINE--Copy goes here single space no indent between graphs
-30-
Last updated: Thursday, 22-Apr-2010 16:09:57 Central Daylight Time