UW-RF Home > University Communications Home > This Month's News Releases
University Communications
For more information contact news@uwrf.edu.
Two Students Receive Dairy Leader Scholarships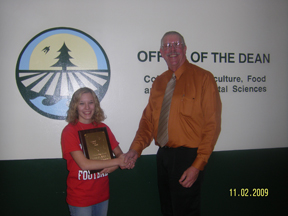 DEC. 1, 2009 | Two University of Wisconsin- River Falls students, Londa Johnson, a senior dairy science major from La Crescent, Minn., and Ashley Julka, a sophomore marketing communications major from Rosendale, recently received scholarships from the National Dairy Promotion and Research Board (NDB), through Dairy Management Inc. (DMI).
Both received one of NDB/DMI's Dairy Checkoff Award scholarships.
"When selecting scholarship winners, the committee looks for academic achievement, an interest in the field of dairy and demonstrated leadership, initiative and integrity," said Kimberly Clauss, a California dairy producer and NDB chair. "These students represent some of the brightest and most dedicated members of our industry's future, and it gives us great pleasure to recognize their academic achievements and assist them with their college educations."
Dairy producers through a "check-off" investment make the scholarships possible. Some 19 $1,500 scholarships are awarded to students throughout the nation who are majoring in degrees with a dairy emphasis and who have shown potential to become future dairy leaders.
Johnson was also awarded the 2009 National Dairy Shrine (NDS)/DMI Milk Marketing Scholarship. She accepted this $1,500 honor at the 2009 World Dairy Expo in Madison, Wis. The NDS/DMI Scholarship encourages students to pursue exciting careers in dairy product marketing.
Photo cutline: Ashley Julka, a student from Rosendale, with her advisor, agricultural economics Professor Lewis May, who wrote her a letter of support for the National Dairy Promotion and Research Board/Dairy Management Inc. scholarship. Her plaque was sent to UWRF and presented to Julka at a department meeting.
-30-
Last updated: Thursday, 22-Apr-2010 16:09:57 Central Daylight Time