UW-RF Home > University Communications Home > This Month's News Releases
University Communications
For more information contact news@uwrf.edu.
Students Take Learning to the Streets in Europe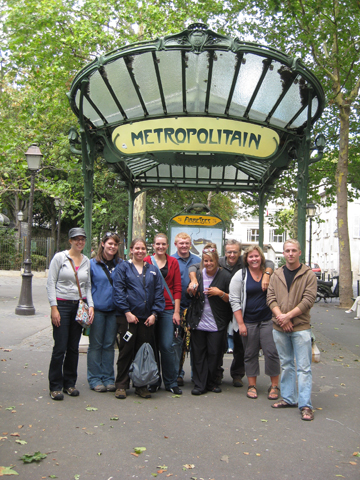 DEC. 1, 2009 | The University of Wisconsin-River Falls Semester Abroad-Europe students are about to return from their independent study projects conducted in Europe and Great Britain.
"We have sent our 46th group to Europe from UW-River Falls", says Lynn Jermal, an art education professor and advisor to students who are studying abroad. "The program is one of the original study abroad programs on campus, started in 1963. The present group abroad is scheduled to return Dec. 12."
The projects are as varied as the nine students on the trip, Jermal said.
Eva Heberlein, a student majoring in modern language from River Falls, interviewed the director of educational programs for le Centre Pompidou, a major art museum in Paris. She also spent time at a museum for children called Musee en Herbe, which is a very small museum featuring Andy Warhol cows in the heart of Paris. Both helped with her project on museum education.
Serena Swenson, a sociology major from River Falls, is at her project site at New Caledonian University in Glasgow, Scotland, where she is helping to research connections between poverty and "creation or development" of star soccer players, which has some similarities to athletics in the United States.
Students often meet their advisors abroad for a progress report, says Jermal. For example, Katie Coughlin, a dairy science major from Watertown, arranged to meet faculty advisor Kerry Keen, who is a professor of plant and earth science at UWRF, on the Isle of Wight off the coast of southern England.
"The miracle of e-mail and cell phones allowed them to find each other at the gate of Osborne House, both having come by ferry—Katie from Portsmouth and Kerry from Southampton," says Jermal.
Osborne House was the summer residence of Queen Victoria and Prince Albert. Coughlin is conducting a history project on Alice, the third daughter of Victoria, and said she was excited to stand right where Alice got married, Jermal said.
Paul Lippert, a student majoring in dairy science from Pittsville, is working on projects related to genomics of dairy cattle at the Genes Diffusion company headquarters in Douai, France with his project coordinator, Mademoiselle Vallee. Lippert is living in a small apartment on company property. The apartment is in a building that has been converted from its original farm purpose, with barns and bulls nearby, Jermal said.
The SA-Europe program gives UWRF students an opportunity to work on independent projects or internships fall semester in Europe developed in a weekly class the spring semester before their travels. The program holds information meetings for interested students each semester for the following term or upcoming year.
The program gives students an academic experience as well as a global perspective, says Brad Gee, SA-Europe program director and head of reference services and instruction for the Chalmer Davee Library at UWRF.
"Over the 10 years that I have been involved with Semester Abroad Europe program, I have seen how students return from Europe not only with in-depth knowledge of a topic and a culture, but also with much greater confidence in their own ability to live, learn and think independently," he said. "For many of them it turns out to be a richly rewarding, and even life-changing, experience."
Photo (L to R): UW-River Falls students learning on the streets of Europe during fall semester through the Semester Abroad Europe program include: Katherine Pederson, an animal science major from Rochester, Katie Coughlin, a dairy science major from Watertown, Tammy Kinjerski, a food science and technology major from Denmark, Katie Anderson, an animal science major from Osseo, Paul Lippert, a dairy science major from Pittsville, Eva Heberlein, a modern language major from River Falls, SAE Faculty Advisor Kerry Keen, Serena Swenson, a sociology major from River Falls, and Levi Danielson, a biology major from River Falls. Not pictured: Angela Heft, a modern language major from Rhinelander, and Lynn Jermal, art professor and SAE assistant faculty advisor Lynn Jermal.
-30-
Last updated: Thursday, 22-Apr-2010 16:09:57 Central Daylight Time