UW-RF Home > University Communications Home > This Month's News Releases
University Communications
For more information contact news@uwrf.edu.
Chancellor Appointed to National Committee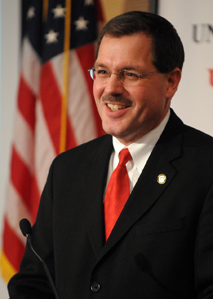 NOV. 23, 2009 | University of Wisconsin-River Falls Chancellor Dean Van Galen has been appointed to a three-year term as a member of the American Association of State Colleges and Universities (AASCU) Committee on the Undergraduate Experience.
In this capacity, Van Galen will serve on the committee that helps AASCU presidents and chancellors develop and share strategies to enhance both the academic and extracurricular experience of their undergraduate students.
"I am looking forward to serving AASCU in this role," said Van Galen. "This will be an opportunity to share some of the outstanding work going on at UW-River Falls with other higher education leaders as well as to learn about best practices of other institutions."
Joining UWRF in June 2009 as its 18th chancellor, Van Galen served previously as the vice president of advancement at the University of West Florida (Pensacola), where he led alumni relations, development and marketing communications as well as its Foundation. He previously served as a vice president for advancement and a chemistry professor at Truman State University in Missouri and as a research associate at the University of California, Berkeley.
Selected as a professor of the year by the Council for the Advancement and Support of Education and a fellow of the American Council on Education, Van Galen holds a Ph.D. in analytical chemistry from Kansas State University and a B.S. degree in chemistry from the University of Wisconsin-Whitewater.
Washington, D.C.-based AASCU is the leadership organization serving 430 public colleges and universities throughout the United States and its territories. AASCU schools enroll more than 3.5 million students or make up 56 percent of the enrollment at all public four-year institutions. Its member colleges and universities work to extend higher education to all citizens and fulfill the expectations of a public university by working for the public good through education and engagement.
The organization promotes appreciation and support for public higher education, analyzes public policy, advocates for member institutions and the students they serve, and provides leadership and program support to strengthen academic quality, promote access and inclusion, and facilitates educational innovation.
UW-River Falls, ranked by U.S. News and World Report as one of America's Best Colleges (Midwestern University, Master's category) and by the Princeton Review as "A Best in the Midwest" university, has more than 6,000 undergraduate students and nearly 500 graduate students. Its four colleges include Agriculture, Food and Environmental Sciences, Business and Economics, Arts and Sciences, and Education and Professional Studies. Part of the 26-campus UW System, UWRF employs some 800 people and has an annual operating budget of approximately $90 million.
-30-
Last updated: Thursday, 22-Apr-2010 16:09:56 Central Daylight Time