UW-RF Home > University Communications Home > This Month's News Releases
University Communications
For more information contact news@uwrf.edu.
Student Send-Off to Antarctica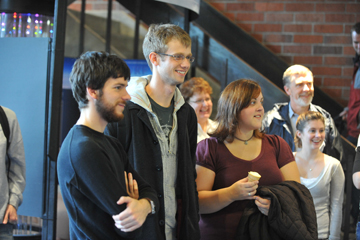 NOV. 6, 2009 | Last week the University of Wisconsin-River Falls physics department hosted an open house/send off for three students who are part of an upcoming Antarctic research cruise associated with the IceCube project at the South Pole.
The international IceCube project is a collaborative effort involving 15 U.S. groups with partners from Belgium, Germany, Japan, New Zealand, Sweden, Switzerland and the United Kingdom, all working to better understand some of the most energetic events in the universe. UWRF is one of two undergraduate schools involved, giving UWRF physics students an opportunity to participate in cutting-edge research.
Students Kyle Jero, a physics major from Marshfield, left, and Samantha Jakel, an engineering major from UW-Rock County, right, left for Sweden for a week of training, while Drew Anderson a physics major from Prescott, center, will follow them to Sweden to stay until Nov. 20 for a final check on an experiment.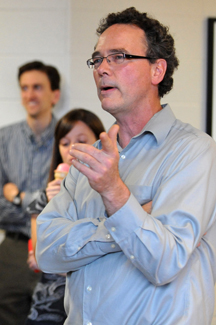 Anderson then heads to the Oden IceBreaker on Nov. 20 for a 20- to 30-day journey to Monte Video, Uruguay, where he will give a talk on the science project at the U.S. Embassy. Jakel will fly to Monte Video, and replace Anderson for the trip to Antarctica. Jero leaves at the beginning of February 2010 from Antarctica to Punta Arenas, Chile. For more information, contact advisor James Madsen, UWRF physics professor, 715.425.3196.
-30-
Last updated: Thursday, 22-Apr-2010 16:09:56 Central Daylight Time