UW-RF Home > University Communications Home > This Month's News Releases
University Communications
For more information contact news@uwrf.edu.
Staff Receive Chancellor's Award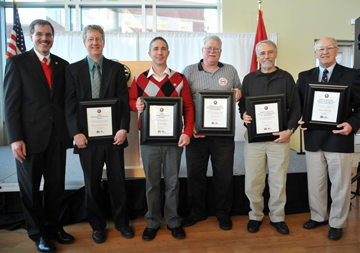 NOV. 6, 2009 | The University of Wisconsin-River Falls honored three staff members with Chancellor's Award of Excellence along with the distinguished teacher and advisor of the year at a reception in the University Center Nov. 2.
The Chancellor's Award of Excellence is the highest institutional award offered by the University of Wisconsin-River Falls. UWRF Chancellor Dean Van Galen greeted attendees.
"UWRF has a long history of rewarding excellence," he said. "We began with the Distinguished Teacher award in 1965, added the academic staff award in l986, and most recently the awards for two classified staff members in 1995. The leadership recognized here today is an important part of a tradition of excellence and the culture of this campus."
The Chancellors Recognition Award for Classified Staff was awarded to two recipients. Ron Gavin, a maintenance mechanic-advanced who works in the facilities management department, has more 30 years of service to campus and is a mentor and role model for his colleagues in Facilities Management and beyond, according to those who nominated him for the award. "He is a constant inspiration to everyone he comes in contact with, helping anyone and everyone with whatever they are involved in," said colleague Lurene Johnson in a nomination letter. "He has probably forgotten more than I will ever hope to know; yet he is always there to lend a helping hand no matter what the job entails. He always lifts your spirits with his whistle and his unshakable good mood. He has served on many committees on campus and never turns down a call for help. He constantly goes out of his way to keep the morale up."
The other recipient of the Chancellor's Award for Classified Staff is Virgil Monroe, who has been textbook services manager since 1983 and who joined campus in 1974. Monroe's outstanding work with developing a textbook rental system on campus has made headlines in the nation, including The New York Times. When the Board of Regents examined the escalating cost of textbooks and what could be done about it, UWRF and its textbook rental program were cited as a benchmark for which all other institutions should strive. Monroe also was asked to testify in Washington, D.C. in 2004 before the House Committee on Education and the Workforce, Subcommittee on 21st Century Competitiveness at a hearing entitled "Are College Textbooks Priced Fairly?"
The Chancellor's Award for Excellence for Academic Staff was given to Jim Murphy, a facilities engineer in the facilities management department. Murphy has served the UWRF campus for nearly 30 years, has successfully brought the University Center to completion and has overseen construction of the Dairy Learning Center and the renovation of the Wall Amphitheater. Mike Stifter, director of facility management, noted that Murphy "has developed positive relationships not only on campus, but also beyond the borders of campus. From contractors to division of state facilities and UW System staff, Jim is highly regarded for his work and commitment. It would not be an embellishment to say that Jim has likely managed $75 million in campus projects over the years--everything from rooftops and walks to major building projects and asbestos abatement--Jim has guided the work with a conscientious approach. Students, faculty, staff, and guests benefit on a daily basis from Jim's contributions."
The Academic Adviser of the Year was also honored at the reception. Travis Tubré, a professor in the psychology department, joined the faculty in 2001. He holds a bachelor's degree in psychology from University of Southwestern Louisiana and master's and doctorate degrees in industrial and organizational psychology from Texas A&M University. Tubré teaches numerous courses in such areas as general psychology, industrial/organizational psychology, employee selection and training, psychological testing, and research methods. In 2006, he was named the outstanding mentor for the UWRF McNair Scholars Program. Tubré has also received an Excellence in Advising Award and an Excellence in Scholarship Award from the College of Arts and Sciences.
The Distinguished Teacher of the Year was also recognized. Dan Marchand, a professor in the Chemistry Department since 2001, serves as coordinator of the university's Science Day and chair of the Faculty Senate external relations committee. Marchand teaches introductory general chemistry, general chemistry, general organic chemistry, pharmacology and separation science laboratory, a new course he designed that emphasizes the methods of analysis related to problems in biochemistry and biotechnology. Marchand is an organizer for the Minnesota Chromatography Forum, has been involved in the UWRF First Year Experience, and, with his academic department, assisted with the development of a new "Organic First" chemistry curriculum funded by the National Science Foundation and which has the potential to be a national model for higher education chemistry curriculum.
Photo, above: L to R: Chancellor Dean Van Galen; Distinguished Teacher of the Year Dan Marchand, professor of chemistry; Academic Adviser of the Year Travis Tubré, associate professor of psychology; Ron Gavin, facilities management, who received the Chancellor's Recognition Award for Classified Staff; Virgil Monroe, textbook services, who received the Chancellor's Recognition Award for Classified Staff; and Jim Murphy, facilities management,who received the Chancellor's Award for Excellence for Academic Staff.
-30-
Last updated: Thursday, 22-Apr-2010 16:09:55 Central Daylight Time