UW-RF Home > University Communications Home > This Month's News Releases
University Communications
For more information contact news@uwrf.edu.
Scholarship Dinner Joins Donors and Recipients
By Andrew Barker
University Communications
Nov. 6, 2009 | The University of Wisconsin-River Falls Foundation held its annual scholarship dinner in October, attended by more than 200 scholarship recipients, donors and staff. This year, the UWRF Foundation awarded more than $630,000 in scholarship to some 500 students for the 2009-10 school year.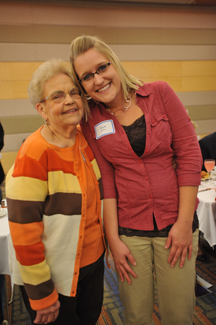 The dinner was meant to introduce the recipient of the scholarship with the scholarship funder, giving the recipient an opportunity to meet the donor and learn why the scholarship was established.
Speakers at the event included student Emily Pfannes, who talked about how scholarships have impacted her life.
"Scholarships have given me the opportunity to attend this University as well as experience new things," said Pfannes. "They have allowed me to save money to study abroad as well a join clubs." said Emily Pfannes.
Over the past 22 years, the UW-River Falls Foundation has distributed about 11,000 scholarships worth more than $5.7 million.
"Scholarships funded by our alumni and friends through the UWRF Foundation provide wonderful opportunities to our students, many of whom come from families of modest means," said Chancellor Dean Van Galen. "The experience of receiving a high-quality education at UW-River Falls is truly life-changing, and we are deeply grateful to those who help to provide this opportunity through charitable support of student scholarships."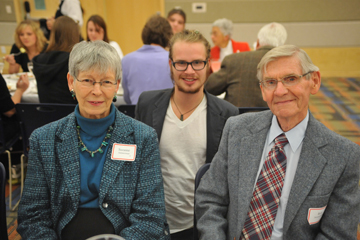 The UW-River Falls Foundation serves as the central fundraising agency for the University and ensures that gifts are sought, well-managed, productively invested and used as directed by donors.
Interim Executive Director of University Advancement Dan McGinty said: "Scholarships are a huge help to students, it gives them a chance for more of an opportunity. Establishing a scholarship gives you great satisfaction in that you are changing the life of a student."
Above, right: River Falls resident Donna Arne, a retired program assistant in the sociology department at UWRF, and student Sarah Peskar, of River Falls, who received the Donna Arne Scholarship.
Above, left: Jason Kittel of Star Prairie, received an art scholarship established by Bill and Suzanne Ammerman of River Falls. Bill is a retired UWRF art and art education professor and is well known for his watercolors of the regional landscape.
-30-
Last updated: Thursday, 22-Apr-2010 16:09:55 Central Daylight Time