UW-RF Home > University Communications Home > This Month's News Releases
University Communications
For more information contact news@uwrf.edu.
Judging Team Meets Success at World Dairy Expo
OCT. 30, 2009 | The University of Wisconsin-River Falls Dairy Judging Team competed at the 89th Intercollegiate Dairy Cattle Judging contest at the 2009 World Dairy Expo.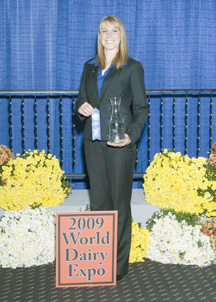 Team member and UWRF student Sandra Kirchner (left) took home the honors of High Individual Overall and led the UWRF team to second place overall.
The UWRF judging team members (below, L to R) are pictured with Bill Langel, WDE representative, team coach/animal science Professor Steve Kelm, Kirchner, a dairy science major from Clintonville, Wis., Cortney Kieffer, an agricultural business major from Utica, Minn., and Jessica Lundgren, a dairy science major from Cushing, Wis., and Londa Johnson, a dairy science major from La Crescent, Minn.
The team took third place in reasons with individuals, Kirchner and Johnson placing third and eighth in individual reasons respectively.
The UWRF team was the only team with all four members achieving 'All-American' recognition. For this recognition the team place in the top 25 overall. In individual overall the other team members placed, Johnson, 9th place, Kieffer, 15th place, and Lundgren, 16th place.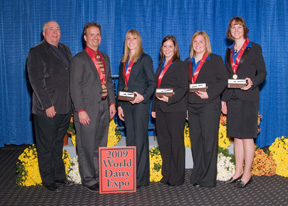 The team was evaluated on their abilities in linear scoring, oral reasons and judging. They looked at six classes of cows and heifers including Ayrshire, Brown Swiss, Guernsey, Holstein, Jersey and Milking Shorthorn breeds.
Of 19 participating teams, the top five teams at the Intercollegiate Dairy Judging contest were Virginia Tech, UW-River Falls, University of Minnesota, Penn State and Cornell University.
-30-
Last updated: Thursday, 22-Apr-2010 16:09:54 Central Daylight Time