UW-RF Home > University Communications Home > This Month's News Releases
University Communications
For more information contact news@uwrf.edu.
CAFES Dean Elected to National Board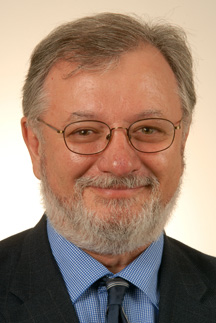 OCT. 30, 2009 | Dale Gallenberg, dean of the College of Agriculture, Food, and Environmental Sciences at the University of Wisconsin-River Falls, has been elected to a two-year term with the American Association of State Colleges of Agriculture and Renewable Resources (AASCARR).
Gallenberg will serve as an at-large member on AASCARRís board of directors. He was elected by his peers at the organizationís annual meeting at Ross State University in Alpine, Texas.
In this capacity he will interact with other officers and directors to help advance the organization, its members and their activities. Gallenberg also will be the AASCARR representative to the Program Committee for Academic Organization and Policy with the Association of Public and Land-Grant Universities.
This committee will set the content of the annual and mid-winter APLU meetings. Before joining UW-River Falls as a collegiate dean, Gallenberg was chair of the plant and earth science department at South Dakota State University.
An Antigo native, he holds a bachelorís degree from UW-Madison and a masterís degree and doctorate in plant pathology from Cornell University. He has received the Distinguished Service Award from the South Dakota Extension Specialists Association.
AASCARR is an organization of non-land grant universities offering degree programs in agriculture and renewable resources. It has 45 member organizations in 13 states.
-30-
Last updated: Thursday, 22-Apr-2010 16:09:54 Central Daylight Time