UW-RF Home > University Communications Home > This Month's News Releases
University Communications
For more information contact news@uwrf.edu.
Faculty Member Receives Patriotic Employer Award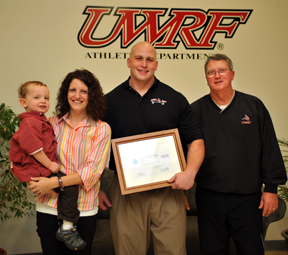 OCT. 30, 2009 | University of Wisconsin-River Falls Assistant Football Coach Carmen Pata (center) was presented the Patriotic Employer Award from the Employer Support of the Guard and Reserve organization Oct. 29 in Hagestad Hall.
Pata was nominated by Sgt. Jason Anderson, who is serving in Iraq with the River Falls National Guard Unit Company D 128th Infantry Group and who worked for Pata while he was a student at UWRF. Jason is a 2009 graduate of UWRF.
The award is given to supportive managers, supervisors, or a company to show appreciation from a military-member employee.
Pata is joined by UWRF Head Football Coach John O'Grady (right) and Jason's wife, Kristy (left) and their son, Gavin.
"I am humbled and honored by this nomination," said Pata. "I am excited that UW-River Falls is being recognized as an institution that is supportive to military-member students and employees."
-30-
Last updated: Thursday, 22-Apr-2010 16:09:53 Central Daylight Time