UW-RF Home > University Communications Home > This Month's News Releases
University Communications
For more information contact news@uwrf.edu.
Davis Theatre Rededicated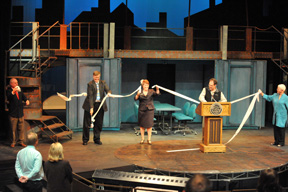 OCT. 30, 2009 | About 70 people gathered at a short ceremony to re-dedicate the Blanche Davis Theatre at the University of Wisconsin-River Falls on Saturday, Oct. 24, thanks to donors who helped make possible the replacement of the 30-year-old seating and carpeting.
On the stage, theater faculty cut toilet paper from the set of "Urinetown, The Musical," the current production, instead of ceremonial ribbon. Faculty (L to R) included: Jim Zimmerman, Gorden Hedahl, Robin Murray, Ken Stofferahn and Meg Swanson.
More than 101 people have contributed to the theater restoration project, and the donors were the theatre department's guests to see "Urinetown," which closed Oct. 31. For information on naming opportunities, contact Kay Corey, UWRF communication studies and theatre arts department, at 715-425-3971 or email kay.corey@uwrf.edu or the UWRF Foundation at 715-425-3505.
-30-
Last updated: Thursday, 22-Apr-2010 16:09:53 Central Daylight Time