UW-RF Home > University Communications Home > This Month's News Releases
University Communications
For more information contact news@uwrf.edu.
UWRF Students Shine at National Chainsaw Competition
By Trista Gropp
University Communications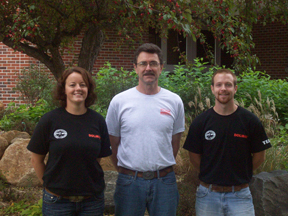 OCT. 23, 2009 | University of Wisconsin-River Falls students Steven Wielgosh and Rebecca Doro, both of Princeton, Wis., took their classroom experiences to the next level when they took first and fourth place, respectively, at the National Game of Logging (GOL) Collegiate Chainsaw Competition on Oct. 3 in Lore City, Ohio.
The National Game of Logging (GOL) Finals are a part of the larger Paul Bunyan Show, an event with logging competitions, a forestry/logging trade show, and industry technology and research displays. The aim of the GOL competition is to emphasize safety and decrease the number of chainsaw-related injuries while giving students a chance to showcase their skills in precision chainsaw operation.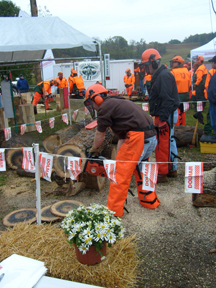 Wielgosh and Doro were classmates in last year's Chainsaw Operation and Safety class taught by UWRF plant and earth science Professor Michael Kaltenberg. This unique class is offered every fall and is open to students of various majors. In the class students learn how to safely handle a chainsaw, properly make cuts, and apply techniques for the directional felling of a tree. At the conclusion of the course, which meets for three Fridays and one Saturday, a regional GOL competition is held.
From that competition, students are qualified and selected to participate in the national GOL finals. Since learning that they would be competing at nationals, Wielgosh and Doro have been helping with students in fall semester chainsaw class. Kaltenberg says the class also works with Ken Lallemont and Nathan Stanford of Timber Resources, LLC, which offers certification students in the class for the first two levels of the GOL series.
According to the GOL website, GOL is a premier timber harvesting training program in the United States, offering hands on training in a competitive environment and four levels of training. This hands-on experience is very useful for students who may be working with chainsaws in their internships or entry-level jobs, and the course qualifies as a direct elective for conservation majors, says Kaltenberg, who also offers a complementary course, Wildfire Fighting, in the spring semester.
Wielgosh and Doro are both senior horticulture majors and said that the course has been worthwhile, not only in preparing for competition but for their career plans as well. Doro, who was the only female in the GOL competition this year, says that she wanted to learn about chainsaw operation and the class was her first experience in it. Female students typically make up about one-third of the chainsaw class, says Kaltenberg.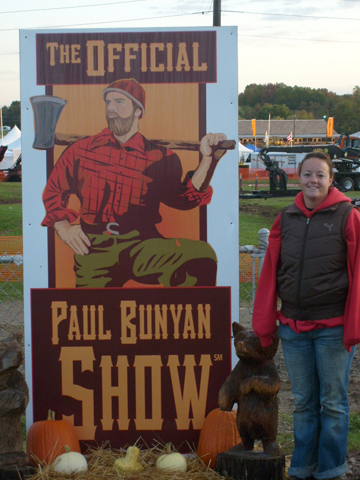 In the competition, Doro was the only individual to get a perfect score for an event. She successfully performed the spring pole, where she used a learned technique to accurately release the tension of a bent-over sapling. Wielgosh considers chainsaw operation as one of his hobbies and, as part of his preparation for the contest, he has been helping to clear and clean up some forested land in the River Falls area.
Wielgosh also said that he has a lot of respect for cooperating professionals who put on the event and were always helpful and willing to share their knowledge. He took his lead by scoring the highest in the felling of a tree. In the felling event, contestants must execute a felling plan that will allow the target attached to the top of a tree to hit a target stake placed on the ground by the contestant.
Other events in the competition included the speed-cut, bore-cut, precision stump, big stump and bucking.
The GOL National Competition has just been revived after taking a year hiatus, said Kaltenberg. Dolmar, the maker of the first gasoline-powered chainsaw, is the new sponsor of the event. With transitions being made, Kaltenberg said he expects to see increased growth of the event and competition in the future.
-30-
Last updated: Thursday, 22-Apr-2010 16:09:53 Central Daylight Time