UW-RF Home > University Communications Home > This Month's News Releases
University Communications
For more information contact news@uwrf.edu.
China Trip Offers Unique Experience for Students
OCT. 9, 2009 | During the summer, a group of University of Wisconsin-River Falls students traveled to China with their faculty advisor and UWRF art professor, Lynn Jermal, to experience an internship opportunity of a lifetime.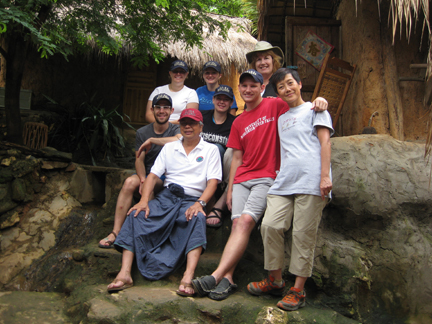 The students were invited to assist with two projects involving culturally threatened villages for the China Exploration and Research Society (CERS) by its founder and president, Wong How Man, a world-renowned researcher and the 2002 recipient of the UWRF Distinguished Alumnus Award.
"There is a benefit in the cultural introduction the student received before their projects which may be harder to accomplish if students are sent without a group or faculty member," said Jermal, whose son, Dan Selon, who lives in Los Angeles and is a graduate of Hudson High School and Occidental College, also went with the UWRF group. "I think our participation in such an unusual opportunity to do conservation projects in these remote regions can serve the university as an example of its mission and the internationalization of our curriculum."
The UWRF group (L to R) included (back row) Bethany Leech, an international studies major from Shoreview, Minn., Deanna Robinson, a business administration major from Brooklyn Park, Minn., art Professor Lynn Jermal of Hudson, (front row, L to R): Dan Selon of Los Angeles; Wong How Man of the CERS; Kendra Smith, a sociology major from Hudson, Cory Windorff, a chemistry major from Brookfield, Berry Sin, administrator manager of CERS, and (not pictured) Haiya Zhang, a business administration major from Kunming, China.
A nonprofit organization based in Hong Kong, Kunming and Shanghai, CER's mission is to explore remote regions of China, conduct multidisciplinary research, conserve nature and culture, and educate through popular channels.
The UWRF team joined nine other students from private high schools and colleges plus a filmmaker, a journalist, an animal researcher and many CERS staff members to work on the conservation of the culture of the last intact Li village on Hainan Island, a large island south of Mainland China.
"The efforts to experience the village of the original people of the island, the Li people, who have lived in isolation so long, is certainly rare," said Jermal. "Our students shined on Hainan Island. They worked beautifully collectively, worked hard until the project was completed and showed flexibility and tenacity to accomplish the goal."
The team members were assigned into three groups, with one Chinese speaker in each group. Every group had an assigned 30 houses in the village to visit in an effort to collect information on farming, fishing, spiritual practices and fortune telling tools, plus everyday utensils like spoons, pottery, baskets and knives, as well as handicraft examples and tolls like looms, mat weaving frames and materials used for making these items. They gathered 150 artifacts of all kinds. The teams cleaned and labeled every artifact, photographed and catalogued it with reference number so they could create documentation of the collection, which is stored and eventually exhibited at CERS.
The teams also headed to a Lisu village, where CERS had set up a research station to observe Golden Monkeys, an endangered species that the Lisu minority considered as ancestors. Both economic hardship and cultural changes for the village were caused when all hunting was outlawed and the Baimaxue Shan National Reserve was created to protect the monkeys. To help preserve the old traditions as the group transitioned over the past decade, CERS created a compound of traditional Lisu homes and storage buildings by buying and moving structures no longer needed by the villagers.
"On the trip north, several van breakdowns stranded the team," said Jermal. "At one point they were given lunch by a generous tobacco farmer and his family from a village near the highway. Everyone on the journey will long remember this hospitality."
The UWRF group task was to design and install cultural displays in three designated spaces where previously collected traditional Lisu artifacts had been on display. The students interviewed villagers, photographed items in use and added missing artifacts to the CERS collections. The team designed a hunting and fishing exhibit, a weaving and costume exhibit and a living museum exhibit, all placed in a traditional Lisu one-room home.
"It was hard not to believe these were not seasoned exhibit designers when one observed the effectively arranged cases and walls with all the labels and explanations in both English and Chinese," said Jermal.
The trip marks the second group of UWRF students to work as interns at CERS with Jermal. "The students learned new skills quickly, worked together efficiently and had fun during the hard labor. The project was a complete success. We should be very proud of them as international representatives of our campus, the project could not have been accomplished without them," said Jermal.
-30-
Last updated: Thursday, 22-Apr-2010 16:09:51 Central Daylight Time