UW-RF Home > University Communications Home > This Month's News Releases
University Communications
For more information contact news@uwrf.edu.
UWRF Dairy Team Takes First at Pennsylvania Contest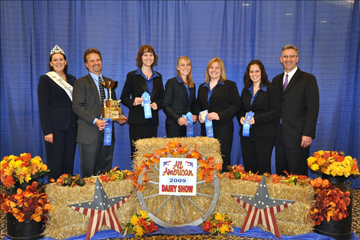 OCT. 9, 2009 | The University of Wisconsin-River Falls Dairy Judging Team took home the first place trophy at the 41st Annual All-American Invitational Youth Dairy Cattle Judging Contest held in Harrisburg, Penn. on Sept. 17.
Team members included (L to R, with a dairy Princess from the state of Pennsylvania and UWRF animal science Professor Steve Kelm) Londa Johnson, a major in dairy science from La Crescent, Minn.; Sandra Kirchner, a dairy science major from Clintonville, Wis.; Jessica Lundgren, a dairy science major from Cushing, Wis.; and Courtney Kieffer, an agricultural business major from Utica, Minn., with Pennsylvania acting Secretary of Agriculture Russell Redding (far right).
Competing against 14 other collegiate teams, the UWRF team received the coveted trophy. The remaining teams in the top five include University of Minnesota at second place, Penn. State University at third place, Virginia Tech at fourth place, and Cal-Polytechnic State University at fifth place.
The competition included dairy cattle judging, oral reasons and linear evaluations. Kieffer led her team to victory by winning high individual in placings and oral reasons, and the team was also the high team in reasons. This is the second time the UWRF Dairy Judging Team has won this competition overall. The team also took first place in 2007.
-30-
Last updated: Thursday, 22-Apr-2010 16:09:51 Central Daylight Time