UW-RF Home > University Communications Home > This Month's News Releases
University Communications
For more information contact news@uwrf.edu.
'Urinetown' Has Complex Messages, Says Director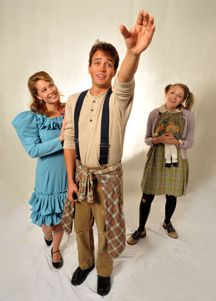 OCT. 9, 2009 | This fall's theatrical production by the University of Wisconsin-River Falls is a story about a topic that most people rarely think about but all do every day. The story line, "Urintetown: The Musical,"—an off-Broadway musical by Greg Kotis and Mark Hollmann—is that a 20-year drought has caused a terrible water shortage, making private privies a rarity. Urine Good Company, a mega-corporation, controls all public toilets, and a revolt ensues.
The play offers a complexity of messages far below the surface of a rollicking musical, says director James Zimmerman, who leads a cast of 22 as they plummet through the trials and tribulations of a world where water is controlled.
"There is a wonderful complexity of messages present if you take the time to think after your laughter subsides," says Zimmerman. "Urinetown sets up a world plagued by the aftermath of a society that has … no choice but to deal with the ramifications of that decision. Their problem—a shortage of water. Their solution—as Cladwell puts it, 'limit consumption through the regulating mechanism of cash.' The translation—you have to pay to pee!"
Performances are Oct. 22-24 and 29-31 at 7:30 p.m. in the Blanche Davis Theatre in the Kleinpell Fine Arts building on campus. For ticket information contact the University Box Office at 715-425-3114. Tickets are $15 for adults and $9 for students with I.D. and seniors. Box office hours are 10 a.m. to 3 p.m. on weekdays and the box office is also open an hour prior to performance.
"In directing a musical my primary job is usually to entertain," says Zimmerman. "But sometimes, as hard as I try to avoid it, a message, or even—a moral—slips into the mix. Enjoy the show … but think a little when you get home."
Photo: L to R: Kelsey Hansen, a freshman music education major from Hudson, plays Hope Cladwell; Greg Lund, a senior theatre arts major from Woodville, plays Bobby Strong; and Kelsey Lynnae Anderson, a senior theatre arts major from Esko, Minn., plays Little Sally.
-30-
Last updated: Thursday, 22-Apr-2010 16:09:51 Central Daylight Time