UW-RF Home > University Communications Home > This Month's News Releases
University Communications
For more information contact news@uwrf.edu.
Executive-in-Residence Event Set at UWRF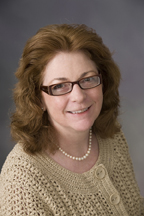 SEPT. 21, 2009 | Margaret Keating, an executive for Hallmark Cards, Inc. and an alumna of the University of Wisconsin-River Falls, will present her perspective on solving challenging business problems at a lecture Oct. 8 from 2 to 3 p.m. in the Kinnickinnic Theater of the University Center at UWRF.
Keating's visit is part of the UWRF College of Business and Economics Executive-in-Residence program. Her speech, titled, "When You Care Enough," will outline how Keating implements solutions that are consistent with Hallmark Cards' corporate beliefs and values.
As group vice president of operations for Hallmark Cards, Keating oversees all U.S. manufacturing, distribution and graphic arts functions, including Hallmark's lithographic printing subsidiary in Columbus, Ga.
Keating also is responsible for global procurement and global supply chain activities that span the Hallmark family of companies. She joined Hallmark in 1979 as a process controller and has held various positions within Hallmark, including Hallmark vice president of graphic arts, Hallmark vice president of North American production and vice president of global shared services. She assumed her current position in July 2003.
Keating earned a B.S. in business/economics from the UWRF and an MBA in operations management from the University of Missouri-Kansas City. She serves on the boards of directors for the UMKC Bloch School Advisory Council, the University of Michigan MSCM-Stephen Ross School of Business and the Diocese of Kansas City-St. Joseph Priest's Pension Board. She and her husband reside in Raymore, Mo. Hallmark Cards, Inc. is headquartered in Kansas City, Mo.
For more information call CBE at 715-425-3335.
-30-
Last updated: Thursday, 22-Apr-2010 16:09:49 Central Daylight Time