UW-RF Home > University Communications Home > This Month's News Releases
University Communications
For more information contact news@uwrf.edu.
New MBA Director Named at UWRF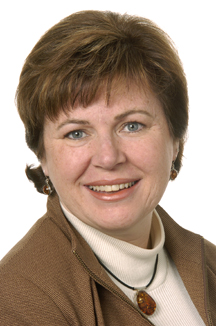 SEPT. 15, 2009 | Claire McCarty Kilian has been selected as the new director of the Master of Business Administration program at the University of Wisconsin-River Falls. A professor of management in the UWRF College of Business and Economics, Kilian began her new post on August 30.
"Dr. Kilian will do great job leading the MBA program into an exciting future for the College of Business and Economics," says Glenn Potts, dean of CBE at UWRF. "The MBA at UWRF is a very strong program and will continue to meet the needs of students and the business community."
Kilian joined the UWRF faculty in 2000. She has more 20 years of teaching and consulting experience in the area of management and human resources. She earned her B.A. degree in psychology and anthropology at UW-Madison and her Ph.D. in labor and human resources/organizational behavior from The Ohio State University.
Her professional interests and research include the development of cases illustrating management practices, ethical leadership, negotiations and influence, and systems thinking. Kilian has worked as a consultant with Mayo Clinic, Wausau Homes, Milwaukee Children's Hospital, and Franciscan Skemp Healthcare.
For more information about the MBA program, contact UWRF CBE at (715) 425-3335.
-30-
Last updated: Thursday, 22-Apr-2010 16:09:49 Central Daylight Time