UW-RF Home > University Communications Home > This Month's News Releases
University Communications
For more information contact news@uwrf.edu.
Former Hudson Newspaperman Leaves Largest Gift in UWRF's History
AUG. 25, 2009 | A lifelong friend of the University of Wisconsin-River Falls--who took only one summer class in 1939 that created a lasting impression and a long-term affiliation--has left the largest bequest in the university's history.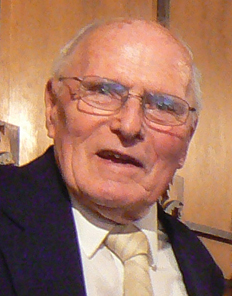 Willis Harry Miller, who died Nov. 16, 2008 at age 89, left $1,068,552 to UWRF. A former publisher of the Hudson (Wis.) Star-Observer, Miller was well known in the St. Croix Valley region and beyond as a newspaperman, historian and philanthropist. Miller's gift will be used to establish endowed scholarships for students at UWRF, with preference given to students from the Hudson and North Hudson area including the towns of Hudson, St. Joseph and Troy.
His gift and memory will be honored at a luncheon at UWRF Aug. 26.
"On behalf of the UW-River Falls community, I want to express deep gratitude for Mr. Willis Miller's tremendous commitment to the University," said Chancellor Dean Van Galen. "The gift from Mr. Miller's estate is truly historic, not only because it is the most generous gift in UWRF's 135-year history, but because of the impact it will have on our university and its students. By establishing a scholarship endowment through the UWRF Foundation, Mr. Miller has left a legacy of providing opportunity for our students for years to come. Our commitment at UW-River Falls will be to ensure that we are good stewards of these resources and that we thoughtfully honor Mr. Miller's wishes."
Over the years, Miller served UWRF as a member of its Foundation Board of Directors and the now-defunct University Press Committee, where he worked with the late history Professor Walker Wyman and former Assistant Chancellor Wayne Wolfe. Both remained lifelong friends and enjoyed spending time in Mexico with Miller. He also donated numerous historical documents, including decades of his personal diaries and business papers, to the River Falls Area Research Center and UWRF Archives as well as to organizations across the country, from state historical societies to the Library of Congress.
Born in Iowa City on Nov. 28, 1918 and raised in Hudson, Miller's connection to UWRF started in 1939 over break from St. Olaf College in Northfield, when he took one summer class on campus. At St. Olaf, he was a member of the famed choir and worked for the Norwegian-American Historical Association at the college. Graduting from St. Olaf in 1940, Miller later secured a job with the Hudson Star-Observer, bicycling around town to sell advertising and report the news. To supplement his income, he was a freelance reporter for the Milwaukee Sentinel and sang at funerals and for Western Union's singing telegrams. He was well known for his column, "Along Our Street," which ran for 40 years in the paper.
Eventually he became publisher and editor of the paper when he and a group of local investors purchased the newspaper in 1958 from Yvette Ward, wife of Brown & Bigelow President Charles A. Ward, who also lived in Hudson. After selling the paper in the 1980s, he "retired" but continued part-time employment with the paper up until his death. He wrote a weekly "Historic Hudson" column.
A founder of the St. Croix County Historical Society, Miller was known for his Hudson Biographical Index, a card catalog chronicling the city's residents and a genealogical resource for researchers near and far. Miller was elected to the Wisconsin Newspaper Hall of Fame in 2004, and a street in Hudson is named for him.
Miller died in Regions Hospital in St. Paul after suffering a stroke at home. He had faithfully reported to work just days before, according to Doug Stohlberg, Miller's longtime colleague and editor of the HSO.
Miller's gift surpasses an estate gift of $1,051,954 in 2007 from UWRF alumna Lucile Spriggs.
His other estate gifts included the Education Foundation of Hudson, Hudson Area Library Foundation, St. Olaf College, the Wisconsin Historical Society, St. Croix County Historical Society, St. Paul's Episcopal Church, Hudson Hospital Health Foundation, Christian Community Home, and the Phipps Center for the Arts plus numerous community, arts and historical organizations and individuals.
Representatives for the Miller estate include Hudson attorney William Radosevich, special administrator Thomas Evenson, and personal representative Robert McGrew, all of Hudson. Miller has said many times over the years to many friends and acquaintances that he was forever grateful for the opportunities given to him at St. Olaf, such as help from faculty there and scholarships from the college and the Hudson Women's Club.
As an endowed scholarship fund, the interest earned on the Miller endowment is to be used to support scholarships, according to Dan McGinty, interim executive director of the Office of University Advancement and UWRF Foundation. The foundation currently has a 4 percent spending policy, which would translate into approximately $40,000 awarded on an annual basis, he said. The exact dollar value and the number of scholarships has not yet been determined.
"We will be forever grateful for this historic gift that we received from the estate of Willis Miller," said McGinty. "His legacy will endure on our campus. This bequest will support our scholarship program and will have an enormous impact on the students from the greater Hudson area for generations to come. I would like to thank all the individuals who were involved in the fruition of this gift, especially the estate's personal representative, Bob McGrew and attorney, Bill Radosevich."
-30-
Last updated: Thursday, 22-Apr-2010 16:09:47 Central Daylight Time