UW-RF Home > University Communications Home > This Month's News Releases
University Communications
For more information contact news@uwrf.edu.
New Guidebook Explores Geology of Nugget Lake County Park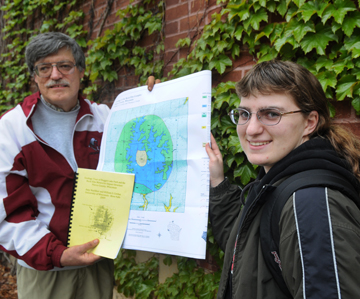 AUG. 18, 2009 | A new guidebook offers a glimpse into the unique geology of Nugget Lake County Park in Pierce County, Wis., along the edge of the last continental glacier that covered much of the state. Developed by Nugget Lake County Park staff and a UWRF student along with UWRF geology Professor William Cordua, the guidebook highlights the geological features of the park.
It's the first guidebook that outlines walking and driving tours showcasing some of the park's very unusual geological features and land formations. Amy Nachbor, who lives in Maple Grove, Minn., and who graduated in May with a B.S. in geology, worked on the guidebook and tested the walking and driving tours as part of her senior thesis requirements. The guidebook and map are for sale for $10 at the park office.
"We've sold quite a few this summer," says Scott Schoepp, park superintendent for Pierce County Parks and who assisted with creating the guidebook. "It's been a good seller by word-of-mouth. We are hearing people say, 'My friend got this guide and I'd like one too.'"
Cordua has been studying the park and its geology for the past 30 years. "The park's been there even before people realized that it has an interesting geology," says Cordua. "It has always attracted geologists from other parts of the country, and in recent years we held our regional geological conference there."
Cordua has also identifed a feature he calls the "Rock Elm Disturbance" that has been found be an asteriod impact site from 450 million years ago. The meteorite—thought to be the size of Lambeau Field—created unusual strata formations and an impact structure that is four miles in diameter.
Cordua also has worked with geography professor Charles Rader and Pierce County Partners in Tourism to create a "Geological Tour of Pierce County, Wisconsin" CD that highlights the Rock Elm Disturbance and other geological features of the county. It is available from www.travelpiercecounty.com.
The park has intrigued many visitors for decades since diamonds were discovered in the park. Named Nugget Lake after the gold mining that occurred in the area in the 1800s, a lake was created when a dam was constructed on Plum Creek in 1972 for erosion control.
"Geologists are the crime scene investigators of planet Earth," writes Nachbor and Cordua in the introduction. "By looking at the rocks and soils around us, geologists begin to put together a picture of what the world we live in looked like thousands if not millions of years ago."
-30-
Last updated: Thursday, 22-Apr-2010 16:09:47 Central Daylight Time