UW-RF Home > University Communications Home > This Month's News Releases
University Communications
For more information contact news@uwrf.edu.
Area Educators Complete Principal Licensure Master's Program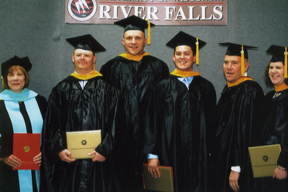 AUG. 11, 2009 | Seven area educators have completed the Principal Licensure Program, earning a Master of Science in Education-Professional Development at the University of Wisconsin-River Falls.
The program leads to certification to become a principal in the state of Wisconsin and is a two-year, 33-credit offering. It is based on the National Educational Policy Board and the Wisconsin Administrators standards for successful principals.
This year's group marks the eighth cohort that has graduated from the program, which has had 99 graduates to date. A new cohort of 12 students started the program in June 2009. Of those completing the program, 35 have become principals, assistant principals, directors of curriculum, instruction or athletics or deans in schools in the St. Croix Valley, Wisconsin and beyond, according to Florence Monsour, professor of teacher education in the UWRF College of Education and Professional Studies.
Those completing the licensure program, pictured with Professor Monsour (far left), include (l to r): J. R. Dachel, of Baldwin and who is an administrator in the Baldwin-Woodville school district; Patrick Gretzlock, of Boyceville; Doug Steinbronn, of River Falls and who is a teacher at Meyer Middle School in River Falls; Mike Thomley of Hammond, who teaches at Rivercrest Elementary School in Hudson; and Heidi McNitt of Dresser, who is a teacher in the Osceola School District. Not pictured are Laura Draxler of Glenwood City, who teaches at the Clear Lake School District and Josh Marincel of Amery, who is a teacher in the Osceola school district.
For more information about the program, contact the Office of Outreach and Graduate Studies at 715-425-3256 or 800-228-5607, visit www.uwrf.edu/ogs, or send an email to outreach@uwrf.edu.
-30-
Last updated: Thursday, 22-Apr-2010 16:09:46 Central Daylight Time