UW-RF Home > University Communications Home > This Month's News Releases
University Communications
For more information contact news@uwrf.edu.
Grant To Help Vets, Service Personnel at UWRF
AUG. 3, 2009 | The University of Wisconsin-River Falls has received a $99,000 grant to address the needs of returning veterans and active-duty students.
The funds are from the 2009-10 Growth Agenda Grant Program of the University of Wisconsin System. The new GI bill is expected to result in an influx of veterans to college campuses within the next two years, according to a report authored by the UWRF Chancellor's Committee on Veterans Affairs.
The grant will be used to fund a dedicated veteran's service officer as well as office set-up and support. Earlier in the year, UWRF conducted a survey of current veterans, veteran's dependents and active-duty service personnel who were enrolled at UWRF. Of 42 respondents, some 74 percent noted that a full-time veteran's service officer would be beneficial to them.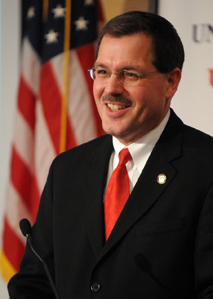 "When veterans and active-duty students participate in higher education, they often experience some unique challenges," said Chancellor Dean Van Galen (right). "This grant will enable UWRF to provide outstanding support for these students and ensure strong partnerships with local, state and national veteran's agencies. We are delighted that the UWRF campus will be even more welcoming to those who have served or are serving our nation."
Currently services to veterans on campus are provided by a part-time financial aid advisor, who is trained in veterans' issues, needs and benefits. In addition, a volunteer UWRF staff member serves as an unpaid advisor to the Veteran's Club student organization, and information and support is available from the campus ROTC office under the command of Major Tabb Benzinger, a professor of military science.
Outside of campus, the Pierce/St. Croix County veteran's service office has a director who also assists veterans who are enrolled in higher education in addition to veterans in the greater community.
During fall semester 2008, 35 UWRF students were deployed to military operations, and a number of issues arose. Those included withdrawal without penalty, tuition refunds, expanding distance learning or creating alternative ways to finish courses on a delayed basis, modification of the exit process that identified services and supports upon withdrawal from higher education, transfer credit for military training that duplicated course material, orientation specifically geared to veterans, and training for staff to handle special needs and issues of veterans or students called in to active duty.
-30-
Last updated: Thursday, 22-Apr-2010 16:09:46 Central Daylight Time