UW-RF Home > University Communications Home > This Month's News Releases
University Communications
For more information contact news@uwrf.edu.
UWRF Named 'A Best in the Midwest' University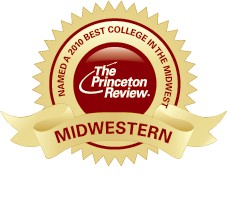 AUG. 3, 2009 | The University of Wisconsin-River Falls is one of the best colleges and universities in the Midwest, according to The Princeton Review. The education services company selected the school as one of 158 institutions it profiles in its "Best in the Midwest" section of its Web site feature 2010 Best Colleges: Region by Region that was posted July 27.
"We are pleased to be selected among this distinct group of colleges and universities selected for recognition by The Princeton Review," said UWRF Chancellor Dean Van Galen. "It speaks well of the dedication of our faculty and staff, the quality of our courses and programs, and our strong commitment to being a leader in higher education in the region."
Says Robert Franek, Princeton Review's vice president of publishing, "We chose UW-River Falls and the other terrific schools we recommend as our 'regional best' colleges primarily for their excellent academic programs. We also work to have our roster of 'regional best' colleges feature a range of institutions by size, selectivity, character and locale. We choose the schools based on institutional data we collect from several hundred schools in each region, our visits to schools over the years, and the opinions of independent and high school-based college advisors whose recommendations we invite. We also take into account what each school's customers—their students—report to us about their campus experiences at them on our 80-question student survey."
The 158 colleges that The Princeton Review chose for this year's "Best in the Midwest" designations are located in 12 states: Iowa, Illinois, Indiana, Kansas, Michigan, Missouri, Minnesota, Nebraska, North Dakota, Ohio, South Dakota, and Wisconsin. The Princeton Review also designated 218 colleges in the Northeast, 123 in the West, and 141 in the Southeast in the Region by Region list.
The 640 colleges named "regional best(s)" represent about 25 percent of the nation's 2,500 four-year colleges. The Princeton Review does not rank the colleges in its 2010 Best Colleges Region by Region Web site section, however, its survey assessed currently enrolled students on several issues—from the accessibility of their professors to quality of the campus food—and offered questions campus life.
Comments from surveyed students are included in the college profile on The Princeton Review site. The profiles also include a "Survey Says …", a list of topics about in which students surveyed at the school were in highest agreement. The profiles of all schools featured in The Princeton Review's 2010 Best Colleges Region by Region Web site section include college ratings.
The rating categories include: academics, admissions selectivity, financial aid, fire safety, quality of life, and green rating. The Web site includes an area titled "User's Guide to Our College Ratings" that explains the criteria for each of its ratings. The Princeton Review developed the green rating in 2007 in partnership with ecoAmerica (www.ecoAmerica.org), a non-profit research and partnership-based environmental organization. The green rating is based entirely on data from the colleges on environmentally related policies, practices and course offerings.
The Princeton Review (www.PrincetonReview.com) is known for its tutoring and classroom test preparation courses, books, and college and graduate school admission services. Its corporate headquarters is in Framingham, Mass., and editorial offices are in New York City. It is not affiliated with Princeton University nor is it a magazine.
UW-River Falls, previously ranked by U.S. News and World Report as one of America's Best Colleges (Midwestern University, Master's category), has more than 6,000 undergraduate students and nearly 500 graduate students. Part of the 26-campus UW System, UWRF employs some 800 people and has an annual operating budget of approximately $90 million.
-30-
Last updated: Thursday, 22-Apr-2010 16:09:46 Central Daylight Time