UW-RF Home > University Communications Home > This Month's News Releases
University Communications
For more information contact news@uwrf.edu.
UWRF Faculty Member Receives Grant
Editor's Note: For more information, contact David Giroux, UW System, (608) 252-4464, (608) 263-2500.
JULY 31, 2009 | MADISON, Wis. | A faculty member from the University of Wisconsin-River Falls was among eight UW System faculty members have received awards through the Applied Research Grant Program, a collaborative effort between UW System and the WiSys Technology Foundation, Inc., to develop commercial applications of their research.
The winners, who will each receive awards up to $50,000 to support their research, include: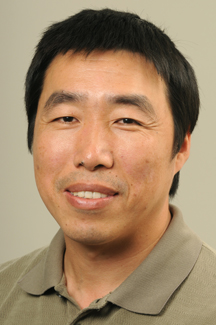 • Cheng-Chen Huang (right), UW-River Falls, "Screening for Potent Attenuators of Heart Failure Progression Using a Zebrafish Heart Failure Model"
• Nate Bowling, UW-Stevens Point, "Development of Two-Dimensional Metallorganic Networks for Potential Application in Photovoltaics"
• Junhong Chen, UW-Milwaukee, "Nanoscale Corona Discharges"
• John Droske, UW-Stevens Point, "Polymers and Copolymers with Controlled Bioresorption for Biomedical Applications"
• Charles Gibson, UW-Oshkosh, "High Performance Electrical Energy Storage Devices"
• Jeri-Anne Lyons, UW-Milwaukee, "A Role for dbl-b E3 Ubiquitin Ligase in the Balance Between Tolerance and Autoimmunity"
• Jennifer Miskowski, UW-La Crosse, "Development of Microscale Assays to Screen for Novel Anthelmintic Drugs"
• Joseph Wu, UW-Platteville, "Toward Industrial-scale Fabrication of Nanowire-based Devices"
The purpose of the Applied Research Grant Program is to provide funding for projects directly enhancing the economic development of the state and to encourage faculty to apply their expertise to problems outside academia, improving connections between knowledge and practice that could potentially promote a stronger Wisconsin economy.
The program supports UW System's Growth Agenda for Wisconsin, by continuing to connect academic research with the private sector to transform ideas into new jobs and new businesses that will attract and employ college-educated workers.
WiSys, based in Madison, plays a key role in evaluating technology or products developed at UW System's 11 comprehensive institutions and assessing the potential economic impact of those products. WiSys also provides assistance with market studies, patent protection issues, industry or university collaboration, procuring research equipment, and legal agreement advice.
The UW System-funded Applied Research Grant program has been helping UW System researchers develop commercial applications since 1997. For more information on the UW System, see www.wisconsin.edu. For more information on the WiSys Technology Foundation, visit www.wisys.org.
-30-
Last updated: Thursday, 22-Apr-2010 16:09:45 Central Daylight Time