UW-RF Home > University Communications Home > This Month's News Releases
University Communications
For more information contact news@uwrf.edu.
Claflin Selected as NAAE Summer Intern
Editor's Note: For more information, Julie Fritsch, communications/marketing coordinator, National Association of Agricultural Educators, jfritsch.naae@uky.edu, (859) 257-2224, Fax: (859) 323-3919.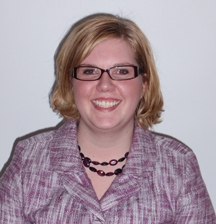 JULY 31, 2009 | LEXINGTON, KY | University of Wisconsin-River Falls senior Kellie Claflin, of Osseo, Wis., was selected as a 2009 summer communications intern for the National Association of Agricultural Educators (NAAE).
Primary responsibilities of the internship include writing award citations, news releases, presentation scripts and newsletter entries for the 2009 NAAE award winners.
In addition to these responsibilities, Claflin will travel to Nashville, Tenn., as an NAAE staff member in November. The communications internship is located in Lexington, Ky. where she works with NAAE staff members and fellow intern, Sarah Marshall, of Flemingsburg, Ky.
Claflin is majoring in agricultural education with a minor in professional and organizational communication. At UW-River Falls, she works in the agricultural education department and takes an active role in campus organizations. She is currently serving as the president of Alpha Tau Alpha, the professional honorary agricultural education organization.
Claflin is also a member of the Agricultural Education Society and Sigma Alpha, the professional agricultural sorority. Claflin has developed a passion for agricultural education and is excited to share that passion with others as an agricultural educator. In the future, she would like to become a teacher educator and conduct research in agricultural education.
"This internship is a great fit with my background in communication and my passion for agricultural education. It's a great opportunity to support the profession, as well as develop professionally as a future educator. Agricultural education has made a positive impact in my life and I'm looking forward to recognizing the outstanding individuals involved in the profession," said Claflin.
NAAE is the professional association for agricultural educators. The mission of NAAE is "professionals providing agricultural education for the global community through visionary leadership, advocacy, and service." The NAAE office is located in Lexington, Ky.
-30-
Last updated: Thursday, 22-Apr-2010 16:09:45 Central Daylight Time