UW-RF Home > University Communications Home > This Month's News Releases
University Communications
For more information contact news@uwrf.edu.
CBE Professor Teaches Course in Taiwan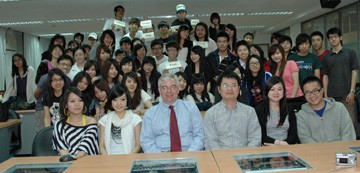 JULY 13, 2009 | University of Wisconsin-River Falls Marketing Professor Darryl Miller, of River Falls, spent two weeks teaching a portion of a consumer behavior course at Shih Chien University in Taipei, Taiwan, in May through a faculty exchange program between the two universities. Sixty undergraduate management students were enrolled in the class.
Professor Shang-Ling Wei, chair of the department of international trade at Shih Chien, taught the information processing aspects of the course, while Miller taught the portion relating to American cultural and social influences. Miller also spoke to M.B.A. students at Shih Chien to inform them of a joint M.B.A. program that CBE has with Shih Chien.The faculty exchange program between Shih Chienís College of Management and the UWRF College of Business and Economics (CBE) was established in 2005.
-30-
Last updated: Thursday, 22-Apr-2010 16:09:45 Central Daylight Time