UW-RF Home > University Communications Home > This Month's News Releases
University Communications
For more information contact news@uwrf.edu.
Chiefs Hold 19th Training Camp at UWRF in August
By Renee Thony
UWRF University Communications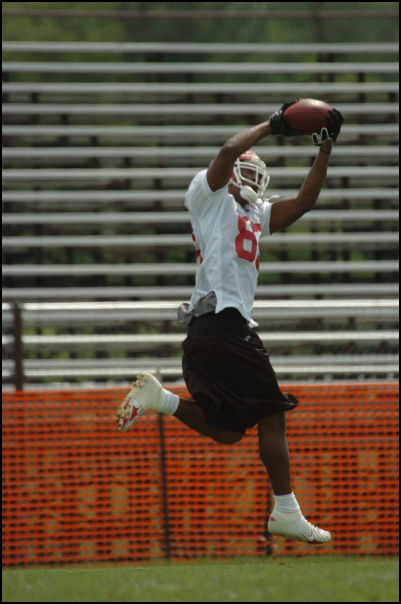 JULY 6, 2009 | The Kansas City Chiefs return for the 19th consecutive year to the University of Wisconsin-River Falls for its summer training camp. The Chiefs will arrive at River Falls on Thursday, July 30. The first day of practice will be Saturday, Aug. 1.
The Chiefs have called River Falls its training camp home since 1991, but things will be a little different for the club this year, including practice schedules and personnel. A big change is in the front office where Scott Pioli is now the team's general manager. He was named the team's fifth general manager in January and replaced Carl Peterson. Pioli, a native of Washingtonville, N.Y., spent the 2000-08 seasons with the New England Patriots. He was the vice president of player personnel. He has also spent time with the Cleveland Browns (1992-95), Baltimore Ravens (1996) and New York Jets (1997-99). Most of his time with those teams was in the player personnel department.
The Chiefs signed several key free agents and picked 10 new players in the NFL Draft, and are also under new command as Head Coach Todd Haley takes the reigns. Haley has spent 13 years as a NFL coach and 15 years in the league overall. The Chiefs look to his record of success for leadership in the upcoming season. Haley, a native of Atlanta, Ga., was the offensive coordinator of the Arizona Cardinals the past two years and helped that team to last year's Super Bowl. Haley brings with him Maurice Carthon as assistant head coach; new defensive coordinator Clancy Pendergast; new linebackers coach Gary Gibbs; Steve Hoffman as the new special teams coach; new offensive line coach Bill Muir; and Dedric Ward as the wide receivers coach.
Another change from past years is the way practices will be conducted. In previous years, the Chiefs practiced twice per day, everyday. This year, however, the team will alternate practicing once per day and twice per day. On the days when the team practices once, the practice will run from 2 to 4 p.m. During two-a-days, the team will practice from 9 to 11 a.m. and then again from 4:30 to 6:30 p.m. All practices—except Family Fun Day, which requires an admission fee—are free and open to the public.
The Punt, Pass and Kick competition, sponsored by Kwik Trip Stores, will be held on Aug. 1. The event is an opportunity for young participants to show off their football skills while kicking and throwing footballs in different age divisions. Participants can register at the practice fields starting at 11 a.m., or can preregister online at: www.uwrf.edu/chiefs/ppkform.htm. The free event is for boys and girls ages 8 to 13.
On Wednesday, Aug. 5 and Wednesday, Aug. 12, Kids' Days will be held. During Kids' Days, children's games will be available and there will be discounts on concession stand food. The events will be from 9 to 11 a.m. The events are free. Call 715-425-3771 for more information or to register.
Saturday, Aug. 8 marks the annual Family Fun Day. In past years, the event was held during the evening, but this year , the activities will be held during the Chiefs' afternoon practice. Family Fun Day, sponsored by Viking Coca Cola of River Falls, gives fans a chance to take photos and obtain autographs of their favorite Chief players and coaches. Food and beverages will be sold, and there will be a range of other activities for the family. Gates open at 11 a.m. The popular Chiefs Experience, which includes football skill activities for all ages, will be available again. The Chiefs will sign autographs starting at 1:30 p.m., and a scheduled two-hour practice will start at 2 p.m. Admission is $7 for adults and free for children under 18.
The Chiefs have several pre-season games set, including one versus the Houston Texans at Arrowhead Stadium in Kansas City on Saturday, Aug. 15.
Monday, Aug. 17 will be Seniors' Day. Seniors' Day offers perks for senior citizens who attend the event, which will run during the team's morning practice (9-11 a.m.) that day. The event is free. Call 715-425-3771 for more information or to register.
The team will break training camp on Thursday, Aug. 20. On Friday, Aug. 21 the Chiefs have a pre-season matchup with the Minnesota Vikings at the Metrodome.
-30-
Last updated: Thursday, 22-Apr-2010 16:09:44 Central Daylight Time