UW-RF Home > University Communications Home > This Month's News Releases
University Communications
For more information contact news@uwrf.edu.
Student Present Research at Equine Society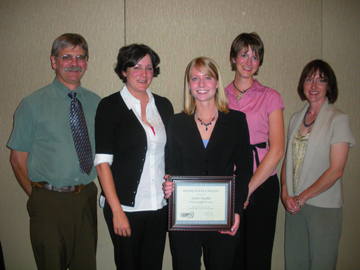 JUNE 29, 2009 | Three recent University of Wisconsin-River Falls graduates presented their work at the 21st Annual Equine Science Society Symposium held May 29-31 at Colorado State University in Keystone, Colorado. One student received a third place honor for her work.
Carrie Mueller, of Merrill, who holds a B.S. in animal science/equine management, presented her research on "Glycogen Depletion in the Reining Horse." Mueller worked in collaboration with UWRF animal science professors Kris Hiney and Gary Onan and was recognized for her outstanding effort by receiving third place in the undergraduate research competition. "We gained networking opportunities with industry professionals as well as exposure to cutting-edge research being performed in the field of equine science," said Mueller. Mueller's future plans are to attend Texas A&M University to pursue a master's degree in equine nutrition and exercise physiology.
Leah Adams, of Boyceville, who received a B.S. in animal science/equine, presented a poster, "A Comparison of Two Different Viability Tests in Equine Spermatozoa." Adams worked under Charles Love, a professor at Texas A&M University through the UW-River Falls McNair Scholars Program. The McNair program offers intensive mentoring, specialized seminars, collaborative research and a paid summer research internship designed to prepare them for graduate school. Adams is currently pursuing higher education opportunities in the equine field.
Rachel Mottet, of Milwaukee, who holds a B.S. in animal science/equine management, presented her research and findings in a paper, "Revisiting the Henneke Body Condition Scoring System: 25 Years Later." Working in collaboration with Mottet were UWRF animal science professors Gary Onan and Kris Hiney. Mottet's future plans include advanced equine education. The Equine Science Society promotes quality research on equine nutrition and physiology and helps facilitate effective communication among students, researchers, teachers, extension and production personnel regarding equine nutrition and physiology.
Photo: L to R: UWRF Animal science Professor Gary Onan, Rachel Mottet, Carrie Mueller, Leah Adams and UWRF animal science Professor Kris Hiney.
-30-
Last updated: Thursday, 22-Apr-2010 16:09:43 Central Daylight Time