UW-RF Home > University Communications Home > This Month's News Releases
University Communications
For more information contact news@uwrf.edu.
Student Regent Visits UWRF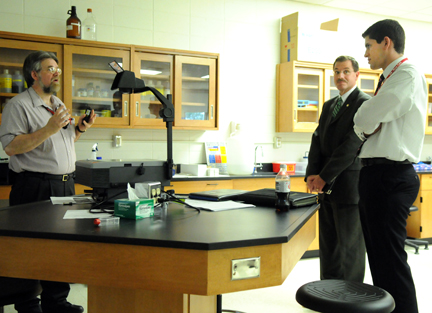 JUNE 29, 2009 | The newest student regent appointed to the University of Wisconsin System Board of Regents, Aaron Wingad (right) toured the University of Wisconsin-River Falls on Wednesday.
Wingad met with Chancellor Dean Van Galen (center) and UWRF biology Professor Tim Lyden (left), director of the UWRF Tissue and Cellular Innovation Center in Agricultural Science building, as part of his visit that included meeting students and faculty.
A biochemistry and molecular biology major at UW-Eau Claire, Wingad is one of two student regents serving two-year terms on the Board.
Last updated: Thursday, 22-Apr-2010 16:09:43 Central Daylight Time