UW-RF Home > University Communications Home > This Month's News Releases
University Communications
For more information contact news@uwrf.edu.
Garden Creates Haven for Rain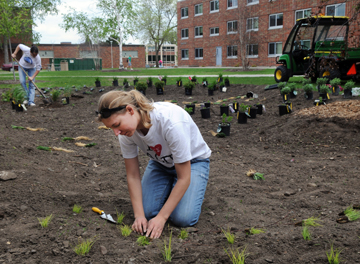 JUNE 29, 2009 | Recent rain and thunderstorms were evident in a new campus rain garden south of May Hall on the University of Wisconsin-River Falls campus. Students in the plant and earth science department and staff from facilities management and residence life created the garden in mid-May through a collaborative initiative.
Students who worked on the garden this spring included Erin (Steinmetz) Nyhus of Chippewa Falls (pictured, standing), Ashley Grundtner (pictured, foreground) of Forest Lake, Minn., Amber Hahn of Dane, Nicole Flipp of Stillwater, Minn., and Michael Tansey of Stillwater, Minn. The students conducted a site assessment, created the landscape design and installed the garden with the guidance of UWRF faculty members Terry Ferriss and Laine Vignona.
The gardenís water ponds are designed as year-round receptacles for building and sidewalk run off and snow melt to help water seep back into the ground rather than into storm sewers where it channels into area lakes and rivers. With the landscape design, storm water will collect in the garden ponds, filter through the plant material and slowly seep back into the ground.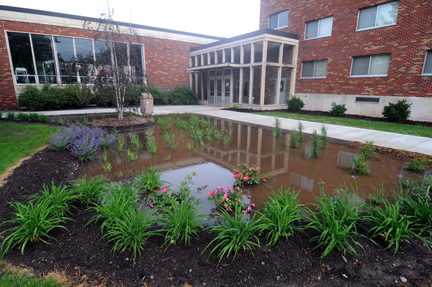 Bailey Nurseries of Newport donated more than 50 percent of the plants for the project. For more information on creating rain gardens, visit the Wisconsin DNR site at http://dnr.wi.gov/runoff/rg/.
-30-
Last updated: Thursday, 22-Apr-2010 16:09:43 Central Daylight Time