UW-RF Home > University Communications Home > This Month's News Releases
University Communications
For more information contact news@uwrf.edu.
Prof Chosen as Institute of Food Technologists Fellow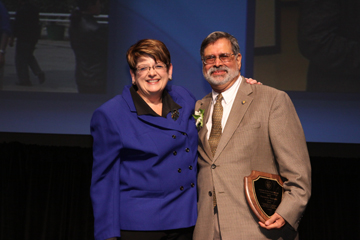 JUNE 19, 2009 | Purnendu C. Vasavada, a professor at the University of Wisconsin-River Falls and a UW Extension food safety specialist, was elected Institute of Food Technologists (IFT) Fellow in 2009 for advancing food safety through his teaching, research and outreach.
The IFT Fellow is a unique professional distinction conferred on individuals with outstanding and extraordinary qualifications and experience for their contributions to the food science and technology field. The nominee must have been an IFT member for 15 years and a professional member at the time of nomination.
Vasavada developed a Rapid Methods Workshop at UWRF, now in its 29th year, as a forum for expanding knowledge on rapid methods in food microbiology. He recently traveled to India, China, Brazil and the United Kingdom to present workshops and seminars on food safety, dairy microbiology and new approaches for rapid detection of food-borne pathogens.
Vasavada joined UWRF in 1977. He holds a Ph.D. in food science and dairy manufacturing from the University of Georgia and an M.S. degrees in microbiology from Southwestern University in Louisiana and Maharaja Sayajirao University of Baroda, India and a B.S. in microbiology from J & J College of Science in Gujarat, India.
Vasavada has participated in many international programs, including the World Congress of Food Science and Technology. He is associated with the International Diary Federation Groups of Experts. He has developed and offered workshops, seminars and short courses dealing with food safety, microbiology, quality assurance and food science education in Asia, Australia, Europe, Canada, Mexico and South American as well as Latvia, Poland, Hungary, Korea and Russia.
IFT has conferred the Fellow designation on a select number of professional members every year since 1970. Founded in 1939, IFT is a nonprofit scientific society with more than 20,000 members working in food science, food technology, and related professions in industry, academia and government. IFT serves as a conduit for multidisciplinary science thought leadership, championing the use of sound science through knowledge sharing, education, and advocacy. For more information on IFT, visit www.ift.org. A complete list of Fellows can be found on the IFT Web site at: http://www.ift.org/cms/?pid=1000287.
Photo, above: IFT President Sheri Schellhaass with UWRF Professor P.C. Vasavada, who was selected as an IFT Fellow for 2009.
-30-
Last updated: Thursday, 22-Apr-2010 16:09:43 Central Daylight Time