UW-RF Home > University Communications Home > This Month's News Releases
University Communications
For more information contact news@uwrf.edu.
Staff, Students, Alumni Participate at State FFA Convention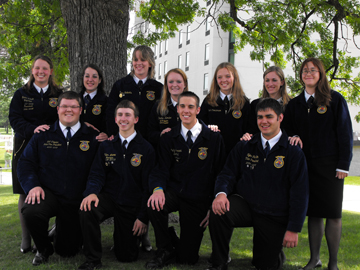 JUNE 19, 2009 | James Graham, associate professor of agricultural education at the University of Wisconsin-River Falls received a Wisconsin FFA Honorary Degree and six UWRF students were elected to officer posts at the 80th Annual Wisconsin FFA Convention held in Madison June 8-11.
The convention, "Be the Difference, Make an Impact," was attended by some 3,400 students and professionals at the Alliant Energy Center exhibition hall. All FFA members who attend the convention wore official FFA dress. Graham's degree is the highest honor that the FFA can bestow on a non-member.
Nominated by local FFA chapters and state FFA staff, recipients were presented with plaques during a program honoring their dedication to youth leadership development.
Six of the eleven Wisconsin State FFA Officers elected to the 2009-10 team are UWRF students. The students include Leah Christenson of Amery; Kirsten Konder of Glenwood City; Jeanie Untiedt of Colby; Andy Moravec of Clintonville; Kimberly Schadrie of De Pere; and Alicia Hodnik, Big Foot High School, of Walworth.
These officers are guided by Cheryl Zimmerman, state FFA executive director and by Jeff Hicken, 1998 UWRF graduate and Wisconsin education consultant/state FFA advisor. Graham also served as a judge in the Finals Parliamentary Procedure Contest along with Gerald Matteson, UWRF professor emeritus.
UWRF students Melissa Ploeckelman of Stetsonville and Amie Stillman of Weyauwega served as judges for the Semi Finals Parliamentary Procedure Contest. Tim Buttles, UWRF associate professor of agricultural education, served as a contest manager throughout the convention. Fay Westberg, academic associate in the UWRF agricultural education department, served as a judge for the Agriscience Fair.
Faculty and UWRF students staffed the CAFES college display at the Lifework Expo. In addition, two parliamentary procedure workshops were hosted by UWRF students including Nikki Beucler of Faribault, Minn.; John Nelson of Galesville; Kaleb Santy of Pulaski; Kimberly Schadrie of De Pere; and Walter Taylor of Cleveland. Another workshop, "Change Lives, Teach Ag" was held that extended invitations to high school students to be inspired to become teachers of agricultural education. The workshop was led by UWRF alumni, including James Melby, an instructor at Winneconne and Rick Henningfeld, an instructor at Big Foot High School in Walworth. The workshop also included a current teachers panel that included three UWRF alumni, Lisa Kossel, instructor in Glenwood City, Adam Wehling, instructor at Mondovi, and Hannah Sheller Wolsdorf, instructor at Tri-County High School in Plainfield.
Another panel included UWRF students Katie Lincicum of Browntown; Kaleb Santy of Pulaski; Amie Stillman of Weyauwega; and Walter Taylor of Cleveland. Katie Lincicum of Browntown was hired as the summer convention assistant for 2009.
Two alumni who are retired but have remained active in agricultural education for several years were honored with the VIP Award: Dean Gagnon of Columbus, a 1977 UWRF graduate and his wife, Mary Elstad Gagnon, a 1968 UWRF graduate. Charles Larson of Amherst, a 1951 UWRF graduate, was inducted into the Wisconsin FFA Hall of Fame.
Photo (above) of state officers: Front (left to right): Brian Chrisler, Prairie du Sac, president; Adam Moore, Gratiot, state vice president; Andy Moravec, Bear Creek, state vice president, UWRF agricultural engineer technology student; and Tyler Franklin, Brooklyn, state vice president. Back (left to right): Jeanie Untiedt, Colby, state sentinel, UWRF ag business and dairy science student; Alicia Hodnik, Walworth, state secretary, UWRF ag education student; Caitlin Roberts, Portage, state reporter; Kirsten Konder, Glenwood City, state treasurer, UWRF ag education student; Leah Christenson, Amery, state vice president, UWRF ag education student; Jessica Klinkner, Cashton, state vice president; and Kim Schadrie, De Pere, state parliamentarian, UWRF ag education student.
-30-
Last updated: Thursday, 22-Apr-2010 16:09:42 Central Daylight Time