UW-RF Home > University Communications Home > This Month's News Releases
University Communications
For more information contact news@uwrf.edu.
CAFES Names Outstanding Teacher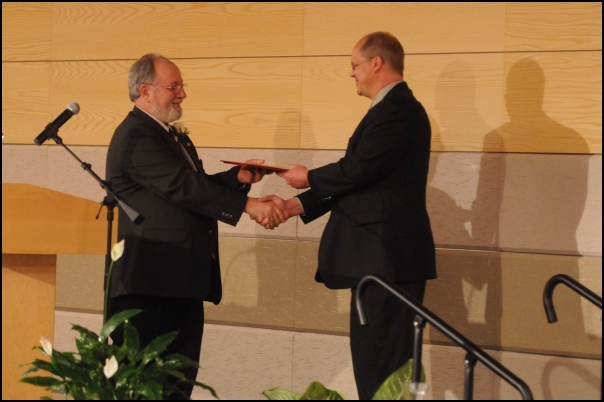 JUNE 12, 2009 | The University of Wisconsin-River Falls College of Agriculture, Food and Environmental Science has bestowed its 2009 Outstanding Faculty Award Teaching Award to Dean Olson, professor of agricultural engineering technology.
CAFES Dean Dale Gallenberg (right) presented the award to Olson at the 43rd annual CAFES Awards Banquet in April. "I am very pleased to present Dr. Dean Olson with the 2009 CAFES Outstanding Faculty Award," said Gallenberg. "Dean continually shows a firm belief in providing students with the best educational experience possible. This is evident in his work both in the classroom as well as outside in other student activities and opportunities. Beyond this his service to the AET Department, CAFES, and UWRF demonstrates his overall commitment to our mission, vision, and values."
The award is the highest honor that CAFES bestows on its faculty members. In addition to recognition by CAFES, the recipient also receives a teaching award of merit certificate from the North American Colleges and Teachers of Agriculture (NACTA) as this year's designee as the outstanding teacher and faculty member of CAFES.
Olson, of River Falls, holds B.S. and M.S. degrees from South Dakota State University and a Ph.D. in agricultural engineering form Iowa State University. He was an instructor at Iowa State University before joining UWRF in 1997. He has served as interim assistant dean of CAFES and is currently chair of his department.
"Students consistently give Dean high marks for his teaching," says Stan Schraufnagel, chair of the CAFES faculty promotions and awards committee. "Students have commented that Dean has a relaxed teaching style while holding them to high academic standards. They have repeatedly stated that he is grounded in production agriculture but also intellectually able to teach to the future of CAFES and engineering technology, specifically."
At UWRF, Olson has led numerous visible projects including a curriculum development effort funded by the U.S. Department of Agriculture to redesign agricultural engineering curriculum and a lead role in a joint USDA Challenge grant with Chippewa Valley Technical College. He is a principal investigator with two other faculty members in pending USDA Challenge grant to work with the Wisconsin Ag in the Classroom program to develop materials for secondary school teachers and students.
"I was pleasantly surprised, since there are many excellent teachers in CAFES," said Olson about receiving the award. "It has been a very busy year in Ag Engineering, and I was honored to be recognized by my colleagues."
Olson is active in developing student-center learning projects into his courses. For example, students in his courses have produced biodiesel fuel used in campus farm machinery from the waste oil produced from the campus food service through a processing unit Olson purchased by a UWRF Foundation Grant.
He has been active in campus sustainability efforts and has involved in upgrades to the CAD lab and other technology in the college. In addition to committee and service work within his college, Olson has been active as advisor in the pre-engineering program based in the College of Arts and Sciences, the UWRF instructional technology committee and the facilities and campus planning committee and sustainability initiatives as well as the local Farm-City Days, with Farm Technology Days 2010, to be held in Pierce County, and the multi-campus Green Business project funded by the UW System.
Other projects have included working one-on-one with student research, including a project involving composting of waste from the biodiesel production process, funded a UW System solid waste research grant. He is co-author of a textbook, "Electricity for Agricultural Applications," author of numerous publications in various journals and a reviewer for the UW System Solid Waste Research Council.
-30-
Last updated: Thursday, 22-Apr-2010 16:09:42 Central Daylight Time