UW-RF Home > University Communications Home > This Month's News Releases
University Communications
For more information contact news@uwrf.edu.
Academic Adviser of the Year Named at UWRF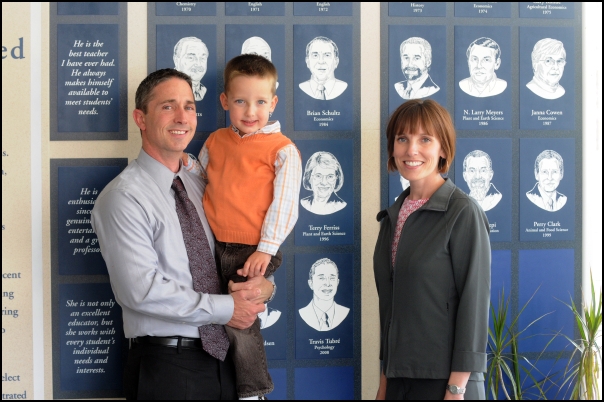 JUNE 12, 2009 | Travis Tubré, an associate professor of psychology at the University of Wisconsin-River Falls, has been named the 2009 UWRF Academic Adviser of the Year.
Tubré, of River Falls, (photo, right: shown with his son and wife, Amber) will be honored at the faculty/staff awards ceremony held annually during the fall semester. Tubré was also the recipient of the 2008 UWRF Distinguished Teacher of the Year, the highest award that can be presented at UWRF.
"Dr. Tubre's subsequent honors as Distinguished Teacher and now Academic Adviser of the Year come as no surprise to those who have spoken with UWRF students about their academic experiences," said Connie Foster, provost and vice chancellor for academic affairs and former interim chancellor. "Travis has an extraordinary ability to connect with students on both an academic and personal level."
The Adviser of the Year award was established in 2000 to recognize an outstanding faculty adviser with nominations by graduating seniors and alumni. Those nominations are then considered by the Faculty Senate advising committee, which makes the final selection.
Tubré teaches numerous courses in such areas as general psychology, industrial/organizational psychology, employee selection and training, psychological testing, and research methods. He is also an active consultant and researcher, contributing numerous conference presentations, scholarly journal articles, and book chapters on such topics as employee testing, simulation and team-based training, and the measurement of job performance.
His research efforts have received awards from several universities and professional associations, and he has conducted invited addresses at such prestigious venues as the Massachusetts Institute of Technology and the Science Museum of Minnesota. Tubré has also been an active contributor to UWRF, serving on search committees, assisting with strategic planning in the College of Arts and Sciences, chairing the CAS Curriculum Committee, and serving as the Faculty Senate liaison to the Academic Staff Council.
Tubré also serves as co-adviser to the student chapter of the Society for Human Resource Management and advises the Psychology Society and the Men's and Women's Lacrosse Clubs. In 2006, Tubré was named the outstanding mentor for the UWRF McNair Scholars Program. He has also received an Excellence in Advising Award and an Excellence in Scholarship Award from the College of Arts and Sciences.
Tubré joined the faculty in June 2001 from the University of Southern Mississippi. He holds a bachelor's degree in psychology from University of Southwestern Louisiana and a master's degree and doctorate in industrial and organizational psychology from Texas A&M University.
-30-
Last updated: Thursday, 22-Apr-2010 16:09:42 Central Daylight Time